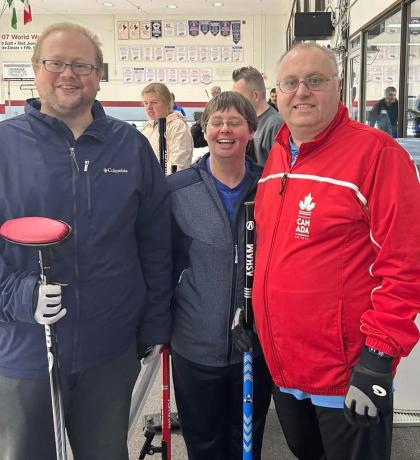 Special Olympics BC's 43rd season of sport, youth, and health programs for athletes with intellectual disabilities is underway and changing lives across the province!
Athlete Reporters have been interviewing athletes and volunteers in communities across the province, hearing their hopes for the season ahead and their favourite things about Special Olympics.
SOBC – Sunshine Coast coach Chuck Bertrand told athlete and author Micheal Oswald, "I love to see the smile when an athlete reaches a personal goal. I have coached many different sports over half a century. For me, coaching Special Olympics athletes is by far the most rewarding. I always go home smiling."
Read on to be inspired by our joyful community. Get involved to change lives, including yours!
Athlete Reporters complete Athlete Leadership training to share stories from their communities. There are a few spots remaining in the latest Athlete Reporter course, a two-part workshop running on Zoom on October 29 and November 5 from 6:30 to 8 p.m. Learn more and register
Find more Athlete Reporter stories
Join the Athlete Leadership Academy
Athlete Reporter Levi Fowler, SOBC – Fort St. John
Levi Fowler caught up with fellow athletes at the registration day for SOBC – Fort St. John! He found out what they are looking forward to this season.
Athlete Carmela Klassen told Fowler she'll be doing bowling, curling, swimming and Club Fit. "My favourite sport is actually bowling," she said. Watch their interview
"The thing I like about Special Olympics is that we're a team. Special Olympics is great because we learn something new and can be successful at trying something new," Klassen says. Watch her speech during her Athlete Speakers Bureau 1 training
Fowler also chatted with SOBC – Fort St. John Health Messenger Andrea Conkin about the presentation she delivered to share helpful health information with fellow athletes. Learn more by watching their segment
Interested in becoming a Health Messenger? Please click here
Athlete Reporter Roy Stephens, SOBC – Kelowna
Roy Stephens contributes to posting SOBC – Kelowna news and highlights on his community's Facebook account and on his Instagram. He showcased the action at the start of Kelowna's curling season. Enjoy his photos
Stephens also shared the excitement of the opening of the 10-pin bowling season, with 18 active teams hitting the lanes in the Kelowna program! Check out his photos
Micheal Oswald, SOBC – Sunshine Coast
Special Olympics athlete and author Micheal Oswald writes a regular column for his local newspaper, the Coast Reporter, where he does an outstanding job of spotlighting the people and activities in Special Olympics BC – Sunshine Coast. Oswald's latest article highlighted several of the life-changing Special Olympics coaches in his community, and the development opportunities available to SOBC coaches.
Coach Tania Finnigan told Oswald, "I like to try and inspire athletes to challenge themselves physically and mentally. I love exercising and I hope the passion I have for it rubs off on everyone I coach."
Oswald also shared stories from registration in his community.
"New athlete Elsa has lived on the Sunshine Coast for five years," Oswald wrote. "This is her first time joining SOBC – Sunshine Coast. She is looking forward to demonstrating her swimming skills. Elsa first learned of Special Olympics after meeting Cathy Verge (swim head coach). She was excited to attend registration to see old friends and meet new ones.
"Brothers Jonas and Keighan knew of Special Olympics since elementary school through social connections and reading about it in the newspaper. Jonas has signed up for basketball and track and field. He enjoys running and has recently found more free time to enjoy sports. Keighan also signed up for basketball as well as bocce and softball."
Athlete Reporter Claire Lemaire, SOBC – Creston
Claire Lemaire has teamed up with her mother, SOBC – Creston volunteer PR Coordinator Corinne Lemaire, to produce an Athlete Voice newsletter for her community! Read the latest issue | Download newsletter templates and more promotional resources
Athlete Reporter David Johnston, SOBC – Dawson Creek
David Johnston actively reports on Special Olympics stories in his community. He is also currently participating in the Special Olympics North America Athlete Storytelling Training Series. While on assignment with Special Olympics North America, Johnston wrote the below profile about inspiring volunteer Steve Oliver, a member of the SOBC Leadership Council and SO Team BC 2024 mission staff.
For the last eight years, Steve Oliver has been making a difference as a passionate Special Olympics volunteer.
He has been involved in many separate roles. Among them, he has served as the Program Coordinator for SOBC – Dawson Creek. He cares deeply about making life-changing programs and experiences possible for local athletes with intellectual disabilities.
Oliver says he was first inspired to get involved in Special Olympics because of hearing parents saying there were no opportunities for their kids. He was also inspired by parents who said they watched their athletes perform while thinking about doctors telling them when the athletes were born that they would not be able to do things like that.
"It inspired me to get involved in Special Olympics to give people that opportunity, so they can prove it when everybody says they can't," Oliver says.
Oliver is also active with Special Olympics in several provincial and national roles.
"It was a big learning curve for me," Oliver said. "I went to three Provincial Games, two as a Mission Staff and one as Chef de Mission, and two National Games – one summer and one winter – and for Team Canada as a mission staff for cross country."
Oliver also serves on the SOBC Leadership Council, helping guide the movement in our in province. Under his portfolio he advises on conflict resolution and safe sport.
Provincially and locally, he is known for his passion for supporting Special Olympics athletes and making a difference.
SOBC – Dawson Creek Local Coordinator Deanna Larson says Oliver's passion for Special Olympics is contagious.
"Steve is about the athletes and how much joy he feels in their personal success," Larson said. "You will often find him tearing up at events where athletes have hit a personal best or have excelled in their competition. He makes an effort to get to know everyone, and is always cheering athletes on to perform to their best. He excels with people and always knows the best things to say to be motivating and encouraging."
Larson said Oliver has drawn more people to Special Olympics through his passion for the athletes and creating new opportunities for them.
"He shares passion for Special Olympics openly, and it is impossible to not get excited about athletes, events, or tasks at hand," Larson says. "When Steve first joined SOBC – Dawson Creek, we were only running bowling. He has catapulted this local into different variety of offering different sports like Club Fit, speed skating, powerlifting, golf, bocce, and curling! He is always looking to recruit more coaches so that we can diversify the number of programs we are providing for our local athletes."
Oliver brings significant sport experience into his roles. Before coming to volunteer with Special Olympics, he was heavily involved with volleyball, both as a player and as a coach. He was part of Team Canada as a player.
Read more from Johnson in the 2023-24 season preview by Athlete Reporters
Donate to support athletes and programs