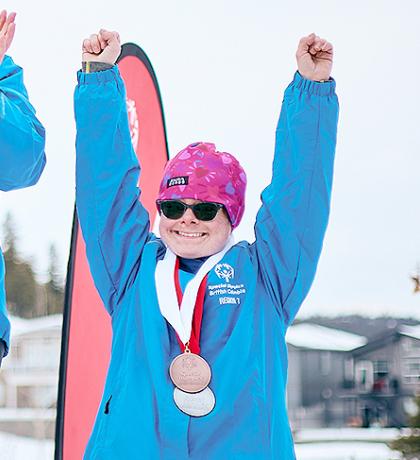 Making friends, pushing themselves to improve in their sports, enjoying competitions, being healthy, and having fun – Special Olympics BC athletes are looking forward to all of that and more in the upcoming sport season!
Special Olympics BC's 43rd season of life-changing sport, youth, and health programs for athletes with intellectual disabilities is coming soon. SOBC Athlete Reporters interviewed athletes and volunteers in communities across the province to talk about their hopes for the new season, and their favourite things about Special Olympics.
Many athletes are looking forward to training in their weekly programs, as well as participating in competitions including Regional Qualifiers. Regional Qualifiers will be hosted across the province in summer sports in spring and summer 2024. These competitions will be the qualifiers for the 2025 Special Olympics BC Summer Games in Prince George. 
Read on to be inspired to join our joyful community and change lives, including yours!
Athlete Reporter Torben Schuffert, SOBC – Smithers
Our Region 7 athletes are getting excited about the next sport season. Hannah is a Special Olympics athlete who travels from Houston to Smithers for weekly practices. She looks forward to track and field and swimming. 
"Swimming is a sport I've always loved to do. I love to be in the water," she says. 
Hannah wants to compete more and keep fit this season. She traveled with her team to a bocce competition last season and hopes to travel more this year. 
"What I like most is you have an encouraging team who tells you to keep going even after you fell or if you're tired."
Jaimie A. from Prince Rupert is planning to participate in soccer, bocce, and Club Fit. "I like them because they are fun." He also attended the bocce competition in Burns Lake. "It made me feel good because our team came in third." 
When asked what he likes most about Special Olympics, Jaimie said, "I like that I get to meet new friends and catch up with the current ones. I also like to go to different places to compete."
Russel is a new athlete in Smithers. He is planning on doing track and field, snowshoeing, and swimming. "I'd say track is one of my favourite things, but my most favourite would be hanging around with my friends." 
His goals for the next season are "getting better at pacing myself and probably improving my speed."
Ann is a longtime athlete in Smithers. She is looking forward to track; she loves long jump and running. One of her favourite moments was being part of the BC Summer Games for track. She said that we need "more help from volunteers" this season and "I love Special Olympics."
All athletes agreed with Ann that athletes and volunteers should get involved with Special Olympics. Hannah said, "To try it out you can push yourself and try new things." Jaimie said, "I think that they would benefit from it. They would meet new athletes from different regions, make new friends, and keep fit." And Russel said, "A volunteer is to be encouraging to the athlete."
The new season is starting soon, and our athletes feel good, because they like to be a part of Special Olympics BC. Special Olympics always loves new volunteers. We hope to meet you all at a practice or a competition.
Athlete Reporter David Johnston, SOBC – Dawson Creek
David Johnston is looking forward to participating this season in 5-pin bowling, curling, Club Fit, and bocce.
"What I like most about them is I get to compete, and travel, and meet new people, and strive to be better in all the sports that I am doing," he says. 
Johnston's goals are to improve in his sports and compete in Regional Qualifiers in spring/summer 2024 to earn a spot at Provincial Games with his bocce team. He also plans to keep doing Athlete Leadership programs, and to eat healthy and take Healthy Athletes courses. 
"Why I think someone new should get involved in Special Olympics is because they'll have fun and get to meet new people, and come out and see what us athletes can do and achieve and strive to improve in our sports, and see how happy we are."
SOBC – Dawson Creek athlete Dara Watson chatted with Johnston about her hopes for the new sport season. Watson is looking forward to participating in bowling, curling, snowshoeing, and bocce. She is excited to be a member of the Special Olympics Team BC 2024 Training Squad preparing for the National Games next February! Her favourite Special Olympics achievements make her feel "excited, happy, and proud."
Athlete Reporter Miranda Orth, SOBC – Nanaimo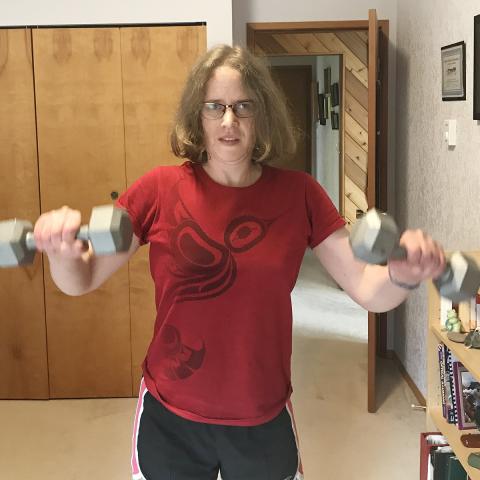 So, this upcoming Special Olympics season is a Regional Qualifier year! The sports I'll be doing in the 2023-2024 season are track and field along with maybe trying out powerlifting. I'll enjoy doing these because I haven't done two Special Olympics sports in Nanaimo before!  
A favourite moment I had was from when I was doing the virtual SOBC Provincial Challenge Games in 2021, where I was lifting weights and being in action, while working on that. It made me feel that I was getting a real workout using weights for really getting strong!  
A goal for the upcoming season is to really do well at Special Olympics practices and at my own training. Another goal is to have fun trying out powerlifting and getting really strong, while doing it. Previously when I was a Special Olympics athlete in Vancouver, I did developmental weight training.
I think someone new should join Special Olympics because it's a fun way to try out sports at practices and socialize with other athletes and coaches/volunteers at social events. My advice to new athlete joining the organization is to enjoy the sports you try and train hard for competitions that may happen.  
My advice for a new volunteer is to have fun getting to know athletes at practices in sports and help them with encouragement training for competitions!
Athlete Reporter Paula Prough, SOBC – Trail 
Paula Prough interviewed Linda Prough, a multi-sport coach and Local Committee volunteer (and parent!), about Special Olympics and the upcoming sport season. 
"I like to know the athletes and help get them out so they aren't sitting at home and they get to meet other athletes, and they get to exercise. I like meeting the athletes and getting to know them," Linda Prough says.
"My favourite memory is my very first Provincial Games in Langley – I've never been an athlete and I was so proud they got to go."
Donate to support this season's programs