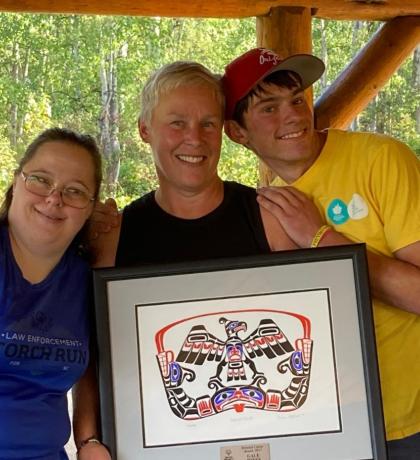 Big congratulations to Special Olympics BC – Smithers coach Gale Jones, deserving winner of Special Olympics Canada's 2023 Coach of the Year award! Jones was celebrated along with fellow award winners during the 2023 Special Olympics Canada National Awards Night on November 2.
Special Olympics Canada's annual National Awards are an opportunity to recognize and celebrate the outstanding Special Olympics members across the country who exemplify the spirit and passion of the movement.
Jones has been a dedicated coach for over 10 years, developing strong relationships in the SOBC – Smithers community. To her, it is family.
"I do feel we've become a family over the last 10 years and as a family, we've also done activities outside of Special Olympics and part of the community at large," she says.
The 2023 Howard Carter Award winner is an experienced coach for swimming and Club Fit, as she finds innovative and creative ways to keep her practices exciting for all athletes and fellow coaches. She is also an inspiring mentor to first-time coaches, constantly supporting their development.
"It brings me joy to be part of such a life-affirming and confidence-building group. I see such growth with our athletes and volunteers," Jones says.
We also send a big shoutout to SOBC – Smithers athlete Torben Schuffert for being a finalist for the Athlete of the Year award, and Special Olympics Alberta coach Mark Heartt for being the fellow recipient of the Coach of the Year award!
Heartt is a former SOBC coach who has been involved since 2004. We are so thankful for all that he has done with SOBC and his current coaching efforts with Special Olympics Alberta!
Congratulations to Gale, Torben, Mark, and all the other deserving winners and nominees of the 2023 Special Olympics Canada National Awards! We are so grateful for all that you do in spreading the Special Olympics movement far and wide across the country and beyond.
Learn more about SOC's National Awards