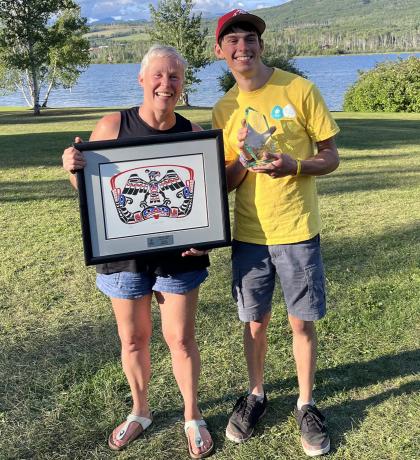 As a Special Olympics coach, Gale Jones says she gets great joy out of being part of a life-affirming and confidence-building group.
Jones, a valued Special Olympics BC – Smithers coach, has been involved with SOBC for 10 years. She is the deserving recipient of SOBC's 2023 Howard Carter Award, which is given to a coach who provides exceptional training to the athletes and ensures that they are prepared to beat their personal bests and deliver high-calibre performances at competitions.
"Gale always has a smile on her face and genuinely cares about each athlete as the person they are," a fellow coach said in Gale's award nomination. "She recognizes when an athlete is upset or struggling and can often get to the root of an issue since the athletes feel comfortable talking to her."
Jones forms strong relationships not just with athletes but also with their parents and caregivers, keeping them informed of the athletes' sport progress and ways they can grow in the Special Olympics community.
"It brings me joy to be part of such a life-affirming and confidence-building group. I see such growth with our athletes and volunteers," Jones says.
Jones is also an outstanding mentor to first-time coaches, sharing her in-depth knowledge of swimming skills and Club Fit workouts. She is very supportive of their development, encouraging them to attend coaching workshops and providing the best resources to help them succeed in their roles.
Jones is a deeply valued member of the SOBC community, as she continuously creates opportunities for athletes and their families to participate and grow in the Special Olympics movement.
READ GALE'S 2023 HOWARD CARTER AWARD BIO