The late Frank Selke Jr. was a "household name" in Canadian sports - and Special Olympics Canada.
Well-known as a personality and executive producer on Hockey Night in Canada, as well as the President and General Manager of former NHL team the Oakland Seals, Selke Jr. used the connections from his successful career to grow the Special Olympics movement in Canada.
"He knew sport backwards and forwards and loved Special Olympics," said Bill L'Heureux, a former chair of Special Olympics Canada and Ontario who worked closely with Selke Jr. on those boards. "He was known all over the country as being a kind of rolling ambassador for Special Olympics."
Selke Jr., along with L'Heureux, was recruited by the late Harry 'Red' Foster, a Canadian broadcaster and advertising mogul who helped establish Special Olympics in Canada.
As the movement struggled to find its footing in Ontario, Foster enlisted his godson Blake Murphy to monitor the finances, L'Heureux to take on the business side, and Selke Jr. to fundraise and act as an ambassador.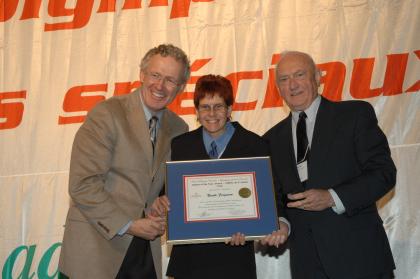 According to former Special Olympics Canada CEO Jim Jordan, those three were the "backbone" of the Special Olympics Ontario Board of Directors at the time.
"The organization was very fortunate in its early years to get that calibre of people who were so keenly interested on the board, because they could wheel some real influence," said Jordan, who became close friends with Selke Jr.
To raise awareness of the establishing movement in Canada, board members wanted to connect with professional sports teams and athletes, especially within the NHL – and Selke Jr. was the way in.
"He was known around Canada for hockey," said L'Heureux. "He could open any door for us – and that's what Frank did."
He fostered relationships with professional athletes, like the late Montreal Canadiens' captain Jean Béliveau and former Toronto Maple Leafs captain Darryl Sittler, who remains involved today. He also secured television coverage of Special Olympics during Hockey Night in Canada telecasts, including a segment during the 1983 Stanley Cup Finals. He recruited celebrities to attend fundraising galas and fostered a number of corporate partnerships, which continue to provide funding for nation-wide programs today.
"Frank was very influential," Jordan said, adding that he'd bring him along to meetings with prospective sponsors. "He was tremendously effective, a great guy to have on our side and he was just a wonderful human."
Selke Jr. continued to support Special Olympics Canada until his death in 2013. While it was his celebrity status that helped establish Special Olympics' footing in Canada, he's remembered as a humble and caring man, who "always had the athletes' interests at heart."
"Frank would hardly miss an important set of games," L'Heureux recalled. "To see him out at the games, of course with a household name like Frank, everybody wanted to get to know him – but he always took the time with the athletes and their families. He was their biggest fan."
You can help continue Selke Jr.'s legacy by making a donation to Special Olympics Canada today.