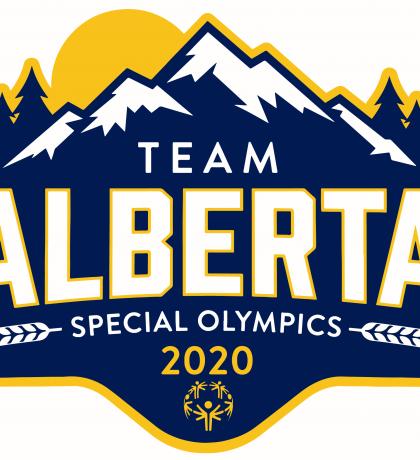 EDMONTON, AB, March 1, 2020- The strength of the wolf was the pack for Team Alberta who represented the province proudly at the Special Olympics Canada Winter Games 2020.
The team earned an impressive 86 medals competing in eight winter sports: 5-pin bowling, alpine skiing, cross-country skiing, curling, figure skating, floor hockey, snowshoeing, and speed skating from February 25 to 29.
"To say that Team Alberta was triumphant would be an understatement," says Team Alberta Chef de Mission Jodi Flanagan. "Alberta had many great victories over opponents or with personal best scores. We had many achievements over the year including fitness growth, team bonding, and improvements in their sport performance."
Special Olympics Alberta invites media to welcome Team Alberta home with interviews upon their return to the Edmonton International Airport and Calgary International Airport on Sunday, March 1 and Monday, March 2 respectively. Team Alberta members will be available after arriving.
TEAM ALBERTA EDMONTON INTERNATIONAL AIRPORT DEPARTURE
Edmonton International Airport, 1000 Airport Rd, Edmonton
Date: March 1, 2020
Flight: AC175
Arrival:11:14 p.m.
86 members
TEAM ALBERTA CALGARY INTERNATIONAL AIRPORT DEPARTURE
Calgary International Airport, 2000 Airport Rd NE, Calgary
Date: March 2, 2020
Flight: WS675
Arrival: 12:40 a.m.
45 members
34 GOLD | 26 SILVER | 26 BRONZE
The Wolfpack was certainly spectacular, earning 86 total medals, but what defined this team was their bond. Athletes united under the symbol of the Wolfpack and howled for each other at their various sporting events throughout the week.
"We became The Wolfpack over the year and built a true identity that encouraged growth and confidence and support," says Flanagan. "Our motto 'the Strength of the Pack is the Wolf, the Strength of the Wolf is the Pack,' by Rudyard Kipling carried us through the year and into Games."
"We are filled with gratitude to the Games organization and to Special Olympics Canada for this amazing opportunity."
You can search for results via delegation, sport, or athlete by clicking here.
Team Alberta thanks the amazing Winter Games Organizing Committee, volunteers, health practitioners, and hosts in Thunder Bay. We had a blast and we cannot wait to do it all again in two years when the National Games make their way to Medicine Hat in the Summer of 2020.
Find photos on the Special Olympics Alberta Flickr and the Special Olympics Canada Flickr.
Team Alberta also invites media to request interviews with our Wolfpack in the weeks following Nationals.
Special Olympics Team Alberta
Team Alberta was represented by 97 athletes and 34 coaches and mission staff who competed at the 2020 Special Olympics Canada Winter Games in Thunder Bay, ON. from February 25 to 29. For more information and a full roster of Team Alberta members, go to www.specialolympics.ca/2020-team-alberta. Follow us on Facebook, Twitter, Instagram, or Flickr or by using the hashtag #SOTeamAB20 to see highlights from throughout the week.
Special Olympics Alberta
Special Olympics Alberta is dedicated to enriching the lives of Albertans with intellectual disabilities through the transformative power and joy of sport. Our programs cater to all ages and a wide range of abilities to over 3,300 athletes from 140 communities. We provide world class sports programs that are run daily by over 950 volunteers and coaches. For more information on Special Olympics Alberta, visit, www.specialolympics.ca/alberta and follow us on Facebook, Twitter, Instagram, Flickr, and YouTube.
-30-
Media Contact
Edmonton
Kiefer Scott Sutherland
Marketing and Communications
Team Alberta
Phone: 780-446-3956
ksutherland@specialolympics.ab.ca
Calgary
Sallie Szanik
Mission Staff
Team Alberta
Phone: 403-922-5796