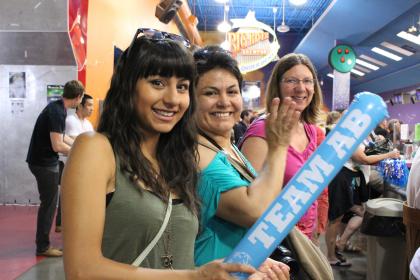 Families and Fans are one of Special Olympics' most significant and influential assets. They are some of our strongest supporters and ambassadors.
Family and support members are expected to:
Be the number one fan. Encouragement and high fives go a long way to build the confidence and self esteem of budding athletes who are trying something new for the first time.
Provide or support completion of all registration and medical forms to ensure that staff, volunteers and coaches have the necessary information to create the best development of an athlete.
Ensure that athletes are ready to perform their best at practices, competitions and games. This includes having the correct apparel and equipment and proper nutrition.
Team Alberta will strive to connect our family and fans with the news and events of the National Winter Games.
TEAM CHANT
THE STRENGTH OF THE PACK
IS THE WOLF
THE STRENGTH OF THE WOLF
IS THE PACK
Repeat X 3 (get louder each time!)
HOWWWWWWLLLLLLLLLLLLLLL
For families and fans attending the National Games Can stay up-to-date by using the Button below.
For family and fans who are not able to travel to see the National Games, you can stay connected with us for updates on events, news, stories and follow us on social media with the hashtag #SOTeamAB20