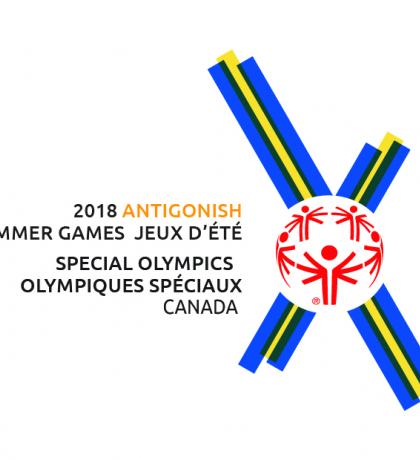 Special Olympics Canada 2018 Summer Games will take place from July 31- August 4, 2018 in Antigonish, Nova Scotia on the campus of St. Francis Xavier University.
June 11 marks the 50 day countdown for the 2018 Special Olympics Canada Summer Games and, as Special Olympics Canada marks its 50th anniversary, the Games Organizing Committee (GOC) is releasing "Let Me Win," the SO2018 Games theme song and an accompanying video.
Written and recorded by multiple East Coast Music Award winning artist Charlie A'Court and a group of Special Olympic athletes from across Nova Scotia, "Let Me Win" is based on the Special Olympics athlete oath by the same name. The athletes and A'Court recorded the theme song at JUNO award winning musician Joel Plaskett's New Scotland Yard Studio in late April. Award winning musician Chris Kirby produced the track and Mirror Image Media (Meaghan and Marie Wright) taped and produced a video of the day.
"Recording this song was such a joy," A'Court says. "The athletes representing Nova Scotia are so dedicated and they really brought energy and inspiration to the studio. Together, we recorded a song that reflects their strength and spirit."
Games Organizing Committee Co-Chair Marc Champoux, a long-time friend of A'Court, jumped at the chance when A'Court asked if there was something he could do to assist with the Games.
"This was truly a team effort with Charlie, already aligned with so many worthy causes in the province, inviting and welcoming these great athletes who had a fantastic day contributing to the project along with award winning individuals from the music industry," Champoux says. "The results not only show how much fun, energy and enthusiasm went into the song and video but the talent involved from athletes, musicians, technicians and videographers. It was nice to have Mirror Image Media, who are graduates of StFX, involved in the videography and who always seem have such a wonderful way of bringing projects to life!"
The GOC hopes the video and song will be widely circulated and contribute to getting the public to come out and cheer (#fansinthestands) on these athletes. Athletic competitions will take place in nine events on the campus of St. FX University, Antigonish Golf and Country Club and Town of Antigonish ball fields located at Dr. John Hugh Gillis Regional High School. A complete schedule of events will soon be available at so2018.specialolympicsns.ca

The GOC has planned a very unique Opening Ceremony July 31st where the "Let Me Win" video and song will play a prominent role. Attending the Opening Ceremony will be a number of VIPs including Special Olympics Canada Board Chair and Olympian, Mark Tewksbury, Special Olympics Canada CEO, Sharon Bollenbach and Senator Jim Munson (TBC).
The public is invited to attend any and all Games related events to witness #strength, #courage, and #determination encompassed with the true heart of sportsmanship. The Games are presented by Michelin Corporate Foundation and Sobeys and supported by the Government of Nova Scotia and Government of Canada.