Exploring new challenges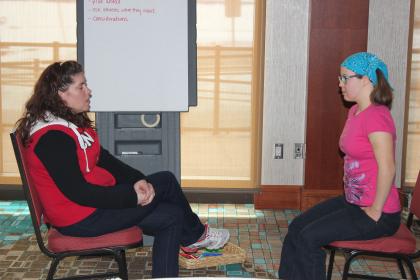 As Special Olympics athletes gain in confidence and feel empowered, they often seek new challenges. They want to build on their successes, including their social skills. They can become mentors for other athletes. They can also move toward a more public role as a speaker or spokesperson, telling audiences and journalists about the remarkable changes that Special Olympics helped bring to their lives.
Special Olympics Athlete Leadership allows athletes to explore opportunities for greater participation in our movement beyond sports training and competition: as peer mentors, athlete speakers and committee members.
These roles give athletes a voice in shaping the Special Olympics movement, and a chance to spread the word about the transformations Special Olympics can bring to individuals and families. Athlete Leadership also provides a way for athletes to showcase talents and interests that may have gone unnoticed, such as public speaking.
Many athletes choose to undergo training to learn presentation skills so they can help spread the message of Special Olympics to the general public. Some are selected by Special Olympics International to serve as Sargent Shriver International Global Messengers, like Martha Hill of the United States, who says, "I feel the training and opportunities given to me through Special Olympics were an investment in me, and I need to use my abilities to help champion the rights of all those with disabilities."
Other athletes have an interest in discussing programming and policy. Athletes who serve on the Special Olympics Boards of Directors help the movement set priorities based on what athletes want. Athletes also share their perspectives on how well Games are run, and their wisdom about how to spend Special Olympics resources.
For further information regarding the Athlete Leadership training program, and to learn which courses are available in your region, please contact your local Chapter.