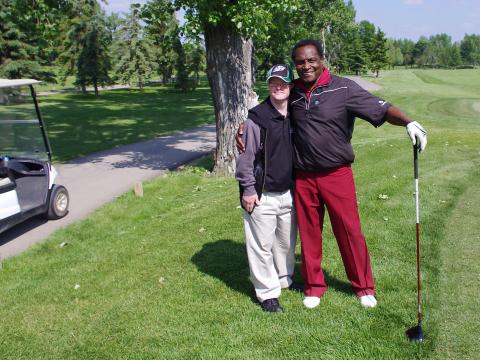 Saskatchewan Roughriders legend George Reed is one of Special Olympics Canada's first-ever celebrity ambassadors.
After moving from Mississippi to Saskatchewan in the 1960s to join the Canadian Football League, he became one of the most beloved players in Roughriders history – and the greatest running back the team has ever had. Over his 13-year career (1963 to 1975), Reed quickly rose to celebrity status and remains a household name in Canada – and within the Special Olympics community.
He first got involved with the movement in the 1970s, when two local charitable organizations, Saskatchewan Knights of Columbus and what was then known as the Saskatchewan Association for the Mentally Retarded, asked him to speak at a provincial track meet for athletes with an intellectual disability.
"I just enjoyed watching them at the first meet that we had," Reed recalled. "Watching them participate and the joy … after seeing what was going on and seeing the reactions of the kids, I thought maybe I could keep helping."
That small track meet sparked Reed's lifelong philanthropic mission to support people with intellectual disabilities. He went on to develop the George Reed Foundation, which supports people with intellectual disabilities through community initiatives, educational support and Special Olympics Saskatchewan programming.
According to Special Olympics Saskatchewan CEO Faye Matt, Reed used all the resources he had – not only as a Roughrider, but also as an active member of the community.
"He went beyond showing up to meet the athletes and hand out medals - he turned that into bringing on sponsors and organizing fundraising events," said Matt. "He was not just a face of the organization, or an ambassador, but with his sleeves rolled up, working with people like Harry "Red" Foster, the founder of Special Olympics in Canada."
As a result of his dedication, and the Saskatchewan Knights of Columbus, Special Olympics Saskatchewan was the first Provincial Chapter to be incorporated in 1975 – only one year after Special Olympics Canada was founded. By 1978, Regina also became the first Canadian city outside of Ontario to host the Special Olympics Canada Summer Games, which saw 500 athletes from across the country compete.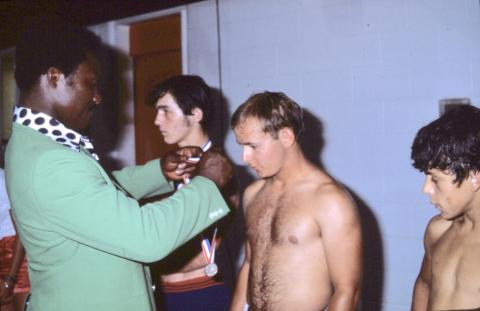 "Mr. Reed is such a key player in creating that momentum," said Matt. "Many know George Reed for his accomplished CFL career. The athletes and volunteers of Special Olympics are proud to know him for his generosity of spirit and his passion to make inclusion a reality in sports and communities."  
He also passed on that passion to his daughter, Georgette Reed, a decorated athlete who compete in shotput at the 1992 Summer Olympics in Barcelona.
"I was excelling in sport and my dad always instilled in me giving back and I liked coaching, so that was one of the first coaching jobs I ever did," Georgette said.
She can still recall the first Special Olympics track meet she attended in Regina and how the athletes flocked to her father to give him a hug or high five.
"He had time for everybody – but he always has time for the athletes," said Georgette. "Special Olympics has always been something that's been near and dear to his heart. His passion was just for everybody to have an opportunity to excel."
Reed, who celebrates his 80th birthday on Wednesday, is proud to see how far the movement has come over the past 50 years.
When he first got involved, Special Olympics was in "a trial period" and only offered four sports, he said.
"To see where it was on Day 1 and see where it is today – it's nice to see we were able to spring board it and now it's a real big deal and everyone can participate."