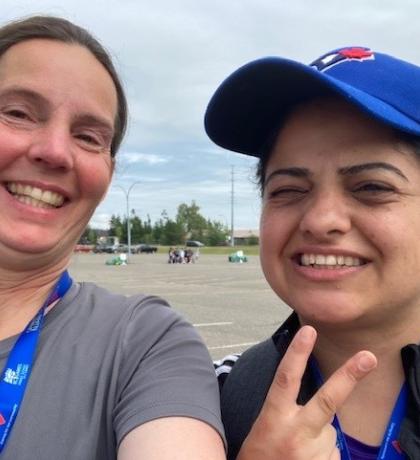 Special Olympics BC - Smithers coach Sandra Schuffert always comes home with a big smile after coaching her athletes, as she sees her SOBC community as an expanded family.

As the Assistant Coach for her Local's swimming, snowshoeing, and athletics teams, Schuffert deeply values the relationships that she builds with her athletes. She says it gives her great joy to see their positive development and success over time.

Schuffert also views her coaching role as a two-way relationship with her athletes. It is rewarding to see them succeed and grow, and she is very certain that she is a better person herself because of her athletes.
When did you start with Special Olympics, and how did you get involved?
I started to get involved after my son, Torben Schuffert, was asked to join Special Olympics about 11 years ago. At first, I volunteered at events, and then I had the opportunity to see our amazing swim coach trying to really do her very best at reaching each athlete, and I got really hooked. Suddenly, they needed an assistant coach for swimming, and so I started coaching. This really got me hooked and now I'm also coaching snowshoeing and athletics!

What do you love about coaching?
There are many things. I love the connection that the athletes and I developed, the understanding that we gain for each other is pretty amazing because you really get to know your athletes. I think the best part is the smile on my face when I get home because I see so many smiles when I'm out there. It sometimes almost feels like a little bit of an expanded family.
What have you learned from coaching SOBC athletes?
To celebrate all the successes and determination of the athletes. If you are a coach, you have the opportunity to really make up for any mistakes that you have made. You also get the opportunity to try again, especially because our athletes are so loving and forgiving.

What has been your most favorite or memorable experience at SOBC?
There was a moment a few years ago, I had an athlete that started snowshoeing. He was convinced that he could not possibly run in snowshoes. Then at the first practice, he started to run, and he had a big smile on his face. I was close to tears because it was just quite remarkable!

Another memory was when I went to Thunder Bay, I got to see my own son on the podium. That was pretty amazing because I know who my son is, and how hard he worked for this.

Why should other people get involved with SOBC?
If anyone is interested in volunteering, I would say that the athletes are amazingly determined, and you get to know them better each time. I think we as coaches change lives for the better. But also, we as people change for the better. I am so sure that I am a better person because of my athletes.

Schuffert's son Torben will be part of the Global Athlete Congress at the 2023 Special Olympics World Summer Games in Berlin, happening June 15 to 19! As part of his commitment to the Congress, Torben has been successfully leading a powerful inclusion project called Shine Together. He reached out to the strong community of artists in his hometown of Smithers to encourage them to connect with people with intellectual disabilities and champion inclusion!
LEARN MORE ABOUT THE 2023 SPECIAL OLYMPICS GLOBAL ATHLETE CONGRESS