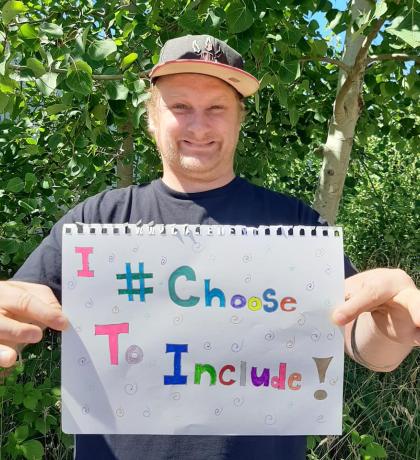 The Special Olympics Global Week of Inclusion is happening July 17 to 21! Join us in celebrating how we #ChooseToInclude, because together we can build a better and more inclusive world!
Canadians with intellectual disabilities are still too often left out in many spheres of their communities. They are far too familiar with the pain of isolation, exclusion, and loneliness. Together, we have the power to change the future for all by choosing to include today!
Get involved in the SO Global Week of Inclusion
 
For the 2023 Global Athlete Congress held at the Special Olympics World Summer Games in Berlin, Special Olympics BC – Smithers athlete and SOBC Athlete Input Council member Torben Schuffert ran a powerful inclusion project in his hometown. 
Schuffert's Shine Together project built inclusion and showed the leadership potential of people with intellectual disabilities. He gathered a strong community of artists from Smithers and encouraged them to connect with people with intellectual disabilities and champion inclusion.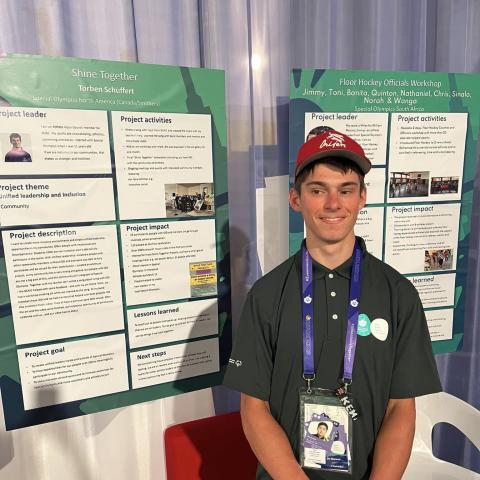 This led to the creation of the Shine Together band who wrote a song about living with intellectual and developmental disabilities, and an art group who created paintings while listening to the song!
Schuffert enjoyed sharing his successful community inclusion project at the Global Athlete Congress. He was also glad to be connecting with other congress members and their projects.
"I learned how fun it is to be together and be strong when learning new things," Schuffert said. 
SOBC is proud of Schuffert for successfully representing Smithers, B.C., and Canada in the Special Olympics Global Athlete Congress, and for leading the way to a more inclusive world!
READ MORE ABOUT SCHUFFERT'S SHINE TOGETHER PROJECT
READ SCHUFFERT'S 2023 GLOBAL ATHLETE CONGRESS PROFILE
Athletes with intellectual disabilities find joy, success, and friendship with Special Olympics. Through Special Olympics BC's year-round sport, youth, and health programs, their world is opened with acceptance and inclusion.
"When I was in school, I didn't like to talk. I was shy. Special Olympics have changed that. I was scared on my first day but I didn't need to be. Everyone was so nice and showed me the ropes. I made a lot of friends with all kinds of diverse abilities. As time went on, my confidence grew."
-SOBC – Victoria athlete Jennifer Ferrier
"Before I joined Special Olympics, it was really hard to fit in and I was really shy. I was always ashamed of my voice and how I speak, and other children used to make fun of me for it. …  Special Olympics has drastically changed my life for the better. I can be who I am and I don't have to hide anymore."
-SOBC – Surrey athlete and SOBC Athlete Input Council member Susan Wang
"I feel strong. I stay active and healthy. I also enjoy being with my friends! I am more confident and I enjoy travelling. With Special Olympics, my life is fuller. I feel happy!"
-SOBC – Creston athlete and Health Messenger Claire Lemaire
Hear more from Claire by watching the video below!
Be a champion of inclusion by joining our joyful community! Get involved as an athlete or volunteer in our life-changing programs for athletes with intellectual disabilities.