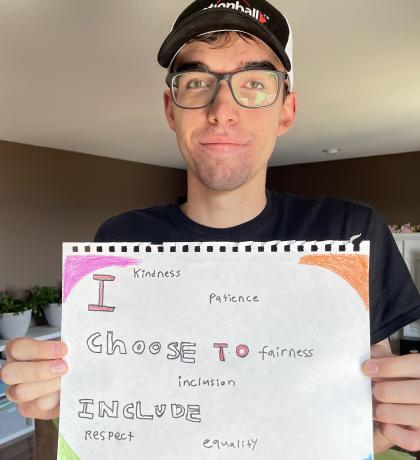 The Special Olympics Global Week of Inclusion celebrates the difference we can make when we #ChooseToInclude, and invites everyone to join the joyful Special Olympics community.
Too many Special Olympics athletes are far too familiar with the pain of isolation and exclusion. Canadians with intellectual disabilities are still too often left out – on playgrounds, from the workforce, from conversations. Together, we have the power to change the future for all.
Join Special Olympics today and make a difference!
Learn why your support matters, thanks to the below champions of inclusion who generously shared their voices and stories in the 2023 Special Olympics Global Week of Inclusion!
SOBC Celebrity Champions
Chris Higgins of the Vancouver Canucks 
Vancouver Whitecaps FC Players and Head Coach Vanni Sartini 
BC Lions Punter Stefan Flintoft
Learn more about Flintoft as a valued SOBC – North Shore volunteer! 
SOBC Athlete Reporters
Miranda Orth, SOBC – Nanaimo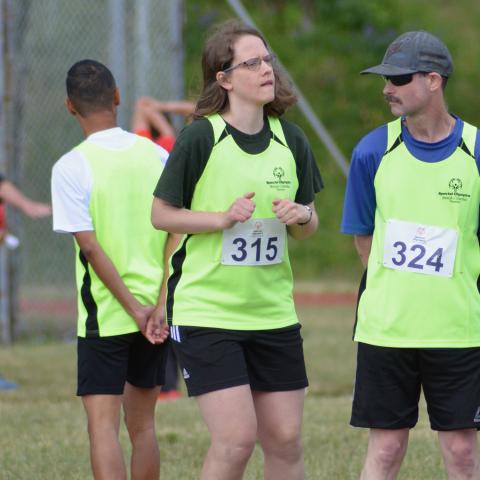 Inclusion is important in sports and social life because people intellectually challenged like myself are quite often ignored, due to lack of understanding that they have disabilities, and want to be heard along with being treated like ordinary people. 
An experience I had was that I had been assigned a specific classroom with other students with intellectual challenges in high school and couldn't be included in other classes that had students without intellectual challenges. I wanted to try an athletics club there and when I asked my teacher about it, they wouldn't let me. That was even though I knew at the time I could join.
Special Olympics I sense is a way for me to be included with other people at social events and sports and it makes me really enjoy advocating about trying to break down the disability barriers and not be waiting on the sidelines for something to happen. 
Everyone should choose to include, especially in sports, because a person intellectually challenged feels they don't have to think about the condition they have when doing something they really enjoy doing. I mostly forget that I have an intellectual disability when I do some exercising by myself or with a couple other people, as I really enjoy doing that kind of activity.  
So, when you choose to include, you choose to get to know people, whether it's at a job interview, at a social event, or doing sports!
A recent Special Olympics excitement I had was at a Nanaimo track meet back in June, where I came in first place with 8.30metres at Javelin! I felt excited about it because I haven't done that sport before and was determined to try it. My coach was excited to know that I was in first place for that event!  
Claire Lemaire, SOBC – Creston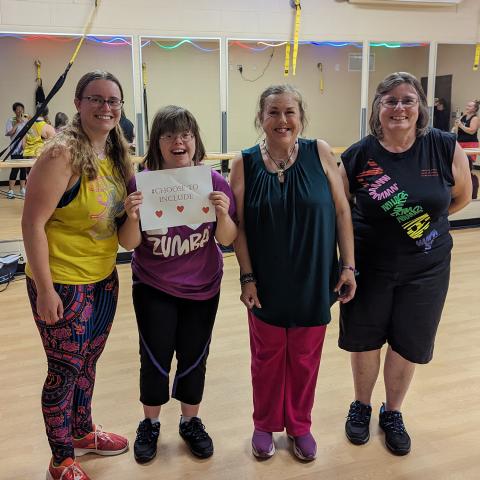 Inclusion is important to me because it means I am respected and accepted. It means that I can contribute to my community as a volunteer, as a worker or as a person who enjoys recreation and sports.
With Special Olympics, I feel included. I have lots of friends and I can practice different sports. With Special Olympics, I can learn about leadership and share with my friends how to stay healthy. My Special Olympics friends and I have lots of fun together.
Kerri Lipsack, SOBC – Oceanside 
Inclusion is important because nobody should feel left out. That's why including people in any sport or activity is so important. It wasn't until I got here to Vancouver Island that I learned about Special Olympics, and decided to join in Oceanside in 1994. When I lived in the Lower Mainland, I didn't even know about Special Olympics, and I'm so glad I joined. It's brought so much joy and satisfaction to me, and I've accomplished so much.
David Johnston, SOBC – Dawson Creek
James Clifford, SOBC – Abbotsford 
Athlete Reporter #ChooseToInclude photos
More Athlete Reporter coverage 
More Inclusion Stories
Inclusion in SOBC school sports 
More SOBC athlete leaders on inclusion
Find #ChooseToInclude spotlights on SOBC social media 
Sara Young, SOBC – Nanaimo athlete
I am a Special Olympics athlete from Nanaimo B.C. My sports are track and field, 5-pin bowling, and bocce. I choose to include! I have been helping my teammates out and cheering them on. I always take part in the health challenges online.
Share your own champion of inclusion
More on the SO Global Week of Inclusion