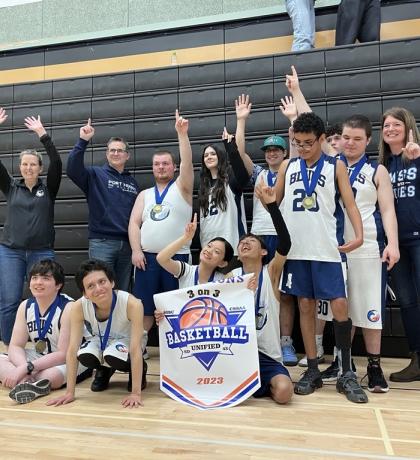 Watching the Special Olympics BC Inclusive Schools 3-on-3 Basketball Competition hosted by Heritage Woods Secondary, parent Michelle Trovato was moved by the inclusive experience.
"A really proud parent moment. When you're a special needs parent, you don't often get those moments where you're sitting in the crowd and everybody is cheering for your kid. It's a very proud moment – we will absolutely treasure this," said Trovato, who is the mother of Special Olympics BC – Coquitlam athlete and SOBC Inclusive Schools competitor Matteo Trovato. 
In spring 2023, Matteo and fellow student-athletes with intellectual disabilities got to shine alongside their peers in the SOBC Inclusive Schools competition hosted by Heritage Woods Secondary School in Port Moody on April 12. Students cheered on players from Gleneagle, Heritage Woods, Pinetree, Port Moody, Riverside, and Terry Fox Secondary Schools for a day of hoops, smiles, and fun!
As Matteo's mother, Michelle could not be prouder of his success and the countless acts of inclusion by everyone at the event.
"It means more than I can ever explain," she said. "We watch, we encourage, we attend, we go and support others. To have that in return means more than words can encompass for us. Everyone cheered my son's name at his school, and he scored a basket in front of his peers and the staff. It means so much to have them be on equal footing for brief minutes with everybody else."
The SOBC Inclusive Schools 3-on-3 Basketball Competition at Heritage Woods was part of SOBC's school sport competition programs. SOBC school sports are tailored to make it easy for schools to offer sport training, competitions, and inclusion for high school student-athletes with intellectual disabilities. The student-athletes get to experience the benefits of participating in sports – healthy activity, friendship, confidence, skill building, and so much more.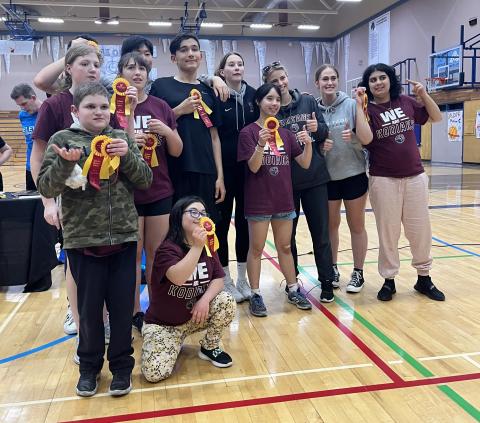 Learn more about SOBC school sports
SOBC school sport competition program options include traditional play (for teams of student-athletes with intellectual disabilities) and Special Olympics Unified (teaming up student-athletes with and without intellectual disabilities). SOBC school sports programs grew around the province in the 2022-23 season! 
After the well-attended 3-on-3 basketball tournament hosted by Heritage Woods Secondary School, the winning team travelled to Comox Valley to compete in the popular SOBC Inclusive Schools 3-on-3 Basketball Tournament that has been hosted by Mark R. Isfeld Secondary for several years. This year, eight teams from Coquitlam, Comox Valley, Courtenay, Nanaimo, Port Alberni, and Port Moody schools competed with pride in this well-supported and well-attended tournament.
Michael Vivieros served as the hardworking lead organizer of the SOBC Inclusive Schools 3-on-3 Basketball Competition at Heritage Woods. He marveled at how well the student-athletes embody the joyous and inclusive nature of sport.
"It's infectious. You see the excitement that goes through those kids' faces," Vivieros said. "It's extremely important to give them the opportunity to participate and represent their schools, while having fun with their peers."
Find photos from Heritage Woods Secondary
Find photos from Mark R. Isfeld Secondary
In Nanaimo, School District 68 hosted the SOBC Inclusive Schools Soccer Competition at the Q'unq'inuqwstuxw turf field on May 17. More than 60 students participated on teams from Alberni District, Lake Trail, Nanaimo District, John Barsby, and Dover Bay secondary schools. It was an eventful day filled with skills competitions, games, and inclusion!
Click here to watch video highlights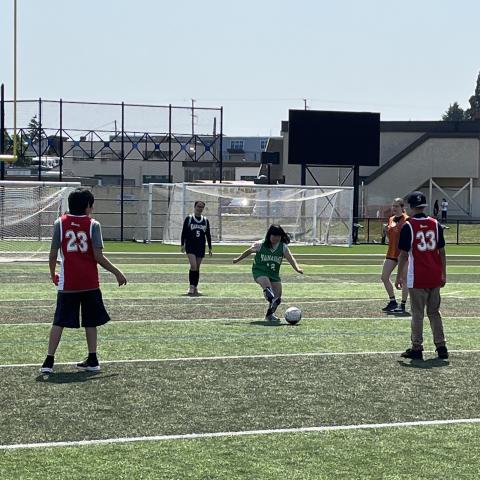 In upcoming SOBC school sport competitions, Alberni District Secondary School in Port Alberni plans to host a track and field meet that has attracted interest, but unfortunately had to be cancelled in June 2023 due to wildfire highway closures. We are excited that there are plans to reschedule this opportunity for athletes to showcase their amazing abilities on the track!
SOBC's school sport competitions are vital for students with intellectual disabilities, because too many are still finding they are not able to access the same physical and healthy activity options as their peers. SOBC is working with School Districts around the province to build more inclusive schools and communities through these sports programs and Inclusion Champion Schools programming.
"I knew once I started the program that it was going to sell itself. I knew that everyone involved was going to get attached to it and it was just going to grow by itself," Vivieros said.
Heartfelt thanks to all the schools, organizers, students, and supporters who all made this year in SOBC Inclusive Schools a big win for everyone!
"You want to talk inclusion? This is what inclusion is. Thank you for making that happen," Michelle Trovato said.
SOBC sincerely thanks the Government of British Columbia, Government of Canada, and Tim Hortons for their dedicated support of our empowering youth programs throughout B.C.!
Learn more about SOBC school sport competitions
Learn more about SOBC youth programs