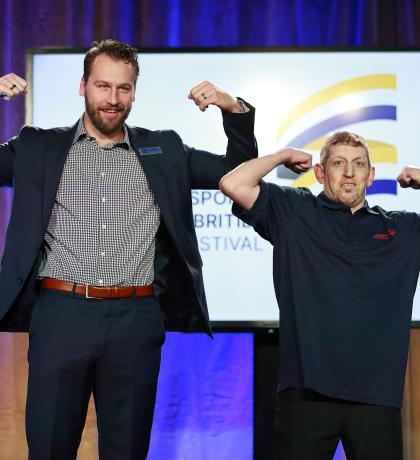 The 2022 Sports Celebrities Festival presented by Wheaton Precious Metals was a wonderful night to remember, raising over $550,000 for Special Olympics BC and the Canucks for Kids Fund!
Hosted by SOBC athletes Alexander Pang and Susan Wang, the Sports Celebrities Festival brought together business leaders, community champions, and B.C. sports heroes including Vancouver Canucks players and alumni, BC Lions coaches and alumni, and Special Olympics athletes. It was a thrill to finally reconnect in person after two years of virtual events.
Over the last 24 years, the funds raised by the Sports Celebrities Festival have helped Special Olympics BC and the Canucks for Kids Fund change lives through the power of sport. The Sports Celebrities Festival and its supporters matter now more than ever. The COVID-19 pandemic has been particularly challenging for people with intellectual disabilities and for the beneficiaries of the Canucks for Kids Fund, as they were all too familiar with the feelings of loneliness and isolation.
This year's joyful event raised over $550,000 through fundraising initiatives such as the popular silent auction, the PALLADIO Jewellers Raffle, the Heads & Tails game sponsored by Wheaton Precious Metals, the Wall of Wine, and many generous donations.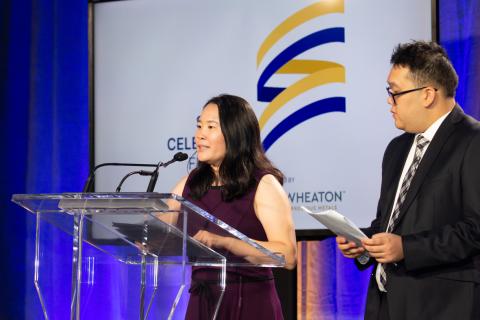 The in-person return of gala also called for the return of the popular Games Room presented by DP World, and photo booths presented by Capilano Suspension Bridge Park. Guests and Special Olympics BC athletes put their gaming skills to the test against Vancouver Canucks players in arcade and Xbox games, and showed off their best smiles and poses at the photo booths.
Special Olympics BC – Ridge Meadows athlete Katherine St. Amand shared her inspiring story with the gala's sold-out crowd. During her school years, she found didn't make many friends and had a hard time navigating social interactions. When she joined community sports teams, St. Amand found herself often left on the sidelines, more often spectating more than playing.
But when she joined Special Olympics, she changed her life and opened eyes to her abilities.
"Joining Special Olympics is one of the best things that's ever happened to me. Not only has it allowed me to excel at sports and push myself, it let me know that I can do anything I put my mind to," she says.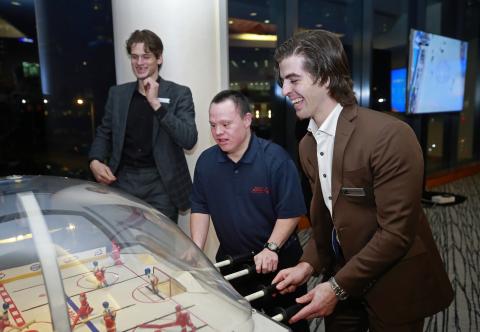 Buoyed by the belonging and empowerment she experienced with Special Olympics, St. Amand has become a successful multi-sport athlete and a medal-winning alpine skier who raced her way to the 2017 Special Olympics World Winter Games in Austria.
"The community of Schladming was very excited we were there, and sent busloads of school kids every day to cheer us on. One day, I noticed that one of the young girls had made a special sign that had my name on it. After a week of competing, I had moved up a division and won a silver medal and sixth-place finish!"
The Sports Celebrities Festival was fortunate to involve players from the Vancouver Canucks, champions of inclusion who each paired up with a Special Olympics athlete for the evening. Watch their triumphant entrance in the SCF parade of athletes, emceed by Sportsnet's John Shorthouse!
Most sincere thanks to all of the generous Sports Celebrities Festival sponsors, donors, celebrities, volunteers and supporters who make this inspiring event possible. We are also thankful to Pang and Wang for being such skilled and entertaining hosts for the evening!
"As an athlete who has really been enriched by joining Special Olympics, I'd like to thank you for helping me to be able to take part in this amazing movement by supporting our programs and athletes like me!" St. Amand said.
Click here for photos from the event!
Our generous sponsors

Presenting Sponsor

Event Sponsors
Media Sponsors
Thank you to supporters of the Sports Celebrities Festival
SCF Committee
Co-Chairs
Simona Antolak, Wheaton Precious Metals
Stephanie Kaye, Canadian Broadcast Sales
Tables Sales Chair
David Yan, Envision Financial
Organizing and Advisory Committee
Chris Adams, Macquarie Metals and Energy Capital (Canada) Ltd.
Diana Campbell, Canucks for Kids Fund
Sean Clifford, Vancouver Canucks
Carmen de Guzman, TD Private Wealth Management
Gunnar Eggertson, Canaccord Genuity
Jen Hansen, Cassels Brock & Blackwell LLP.
Nikki Matwiv, Canucks for Kids Fund
Christina Sunwoo, TD Bank Group

Special Thanks
Brent Butt, Marco Iannuzzi, Al Murdoch, Alexander Pang, John Shorthouse, Katherine St. Amand, Susan Wang (Talent)
Greg Forrester and Echo Brands (Collectibles supplier)
Heritage Office Furnishings (Event transportation)
Jeff Vinnick (Photographer)
Karen Christiansen (Events Operations)
Patrick Roberge Productions (Production)
Rick Campbell, (BC Lions Head Coach)
Simon Cooksley Design (Decor)
Vancouver Canucks Players, Management & Alumni
Vancouver Canucks and Whitecaps FC Mascots

Auction Donors $1000+
Abbotsford Canucks
Anonymous
Bosa Development Corporation
Canucks Sports & Entertainment
Dueck Auto Group
Envision Financial
Fairmont Chateau Whistler
Fitness World Canada
Gunnar Eggertson
JYSK Canada
Pacific Coastal Airlines
Park'N Fly
SAXX Underwear Co.
Studeo
Toptable Group
Toyota Pacific Dealers
West Jet

Fund-a-need donors $1000+
ABC Customs Brokers
Andy Eisenbock
Cassels Brock & Blackwell LLP.
Courtney Keith
Doug Holtby
Gary Brown
Gregory B. Keith
Gunnar Eggertson
Jen Hansen
Kirsten McElgunn
Mark Woodall
Michael De Pfyffer
Mike Hirst
Moray & Pam Keith
Randall Chatwin
Randy Smallwood
RBC Foundation
Simona Antolak
Tamara Howarth
Tara Hassan
Ted Hirst
The Pera Giving Foundation
Trevor D'Sa
Trevor Rennie
Tsering Luding