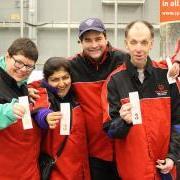 Special Olympics BC – Ridge Meadows is always welcoming athletes and volunteers to get involved in our joyful community!
Please click the button below to learn about the strong safety protocols in our programs, and complete your registration forms.
ATHLETES SOBC - Ridge Meadows Registration night is on Tuesday August 15th at Maple Ridge Library in the Fraser Room from 6:00 - 7:45 PM. The fee is $35.00 for the year. You can pre-fill your registration form by clicking the button below and bring it with your payment.
Or if you wish to submit your registration forms online please contact RegisterSORM@gmail.com.
Volunteers can search available opportunities in our community using this form!
Please note that our community might not currently offer all of the sports listed on the registration form. After you submit your form, Special Olympics will contact you to confirm your registration and local details. Thank you for joining our joyful community!
About SOBC – Ridge Meadows
Special Olympics BC – Ridge Meadows is home to 133 athletes and 50 volunteers. This Local offers 11 sports, including 5-pin bowling, 10-pin bowling, swimming, floor hockey, basketball, rhythmic gymnastics, soccer, athletics, and bocce, as well as the youth program Active Start/FUNdamentals for ages two to 11..
This Local is looking for enthusiastic volunteers for the Active Start/FUNdamentals youth program and any other sport-specific programming.  If you are interested in getting involved as a volunteer, please contact Susan St Amand. 
Support SOBC - Ridge Meadows
To donate directly to SOBC – Ridge Meadows click on the button below.