In 2012, Prince Edward Island's Tracey and Mike Demeulenaere were heartbroken to learn their unborn daughter, Kelsey, would have Down syndrome.
Tracey worried about how this diagnosis would shape Kelsey's life and also that of her eldest daughter, Naomi.
When she recalls those initial fears – Naomi now eight, Kelsey, five, and newest addition, Renee, two –"it's hard not to be annoyed at yourself," Tracey said.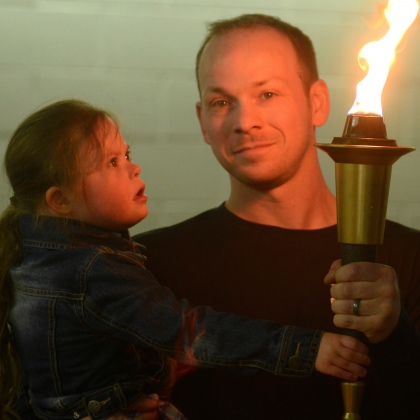 "We couldn't have been more wrong," she added. "Our lives didn't end with a Down syndrome diagnosis and I am forever grateful to have been given the opportunity to be Kelsey's mom. I am a better person than I was six years ago."
The Village Green family of five has learned a lot from Kelsey – compassion, patience, perseverance, gratitude and perspective.
When Kelsey was two, they discovered Active Start, a Special Olympics program for children aged two to six to help develop basic motor and sport skills through fun and positive movement experiences.
At the time, Kelsey wasn't walking – she "bum scooted" to get around – but they quickly started to see improvements.
"It was a lot of the things we had been working at in physio, but because this was fun – and not medical – she would do it," said Tracey.
Within six months, Kelsey was walking and "hasn't stopped since."
The Demeulenaeres now live and breathe Special Olympics.
Tracey is Head Coach of Kelsey's Active Start program, with Naomi assisting as "junior coach." Mike, a civilian member of the RCMP, is part of P.E.I.'s Law Enforcement Torch Run (LETR) – a dedicated group of law enforcement officials who support Special Olympics. An active member since 2015, he and Kelsey carried the Flame of Hope during the opening ceremonies at the Special Olympics Canada 2018 Bowling Championships in Charlottetown last May. He and Naomi have also raised more than $6,000 through the LETR's Polar Plunge, a winter event in which they dive into icy cold waters to raise funds for the movement.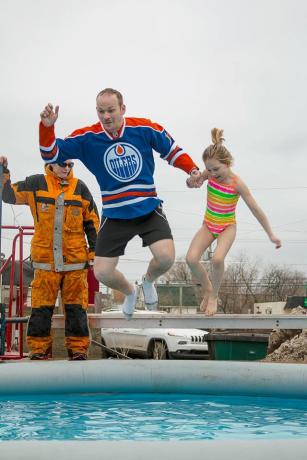 "It's a family affair," Mike said.
There's hardly an event in P.E.I. where you wouldn't find them. They even crossed provincial borders and travelled to Antigonish, Nova Scotia in August for the Special Olympics Canada 2018 Summer Games.
The family is not only dedicated to enriching the lives of Canadians with an intellectual disability through the transformative power of sport at Special Olympics – but also in their everyday lives.
As co-president of the P.E.I. Down Syndrome Society, Tracey organizes events, hosts a Facebook group and offers positive and welcoming information and tools for parents who have a child with Down syndrome.
"It's so important for our kids to see that not everybody is the same and that's O.K.," said Tracey. "It doesn't mean they're any less successful, any less important in their victories or any less incredible."
These values are already engrained in eight-year-old Naomi.
Not only does she dive into freezing waters with Mike and help Tracey with Active Start, but she's also educating her classmates.
Earlier this year, Naomi did a presentation on Down syndrome at school and shared that "people with Down syndrome can do almost everything that you can, but may need more time, practice and support to learn each new skill."
"To say we are proud parents is an understatement," Mike said.
Tracey, Mike, Naomi, Kelsey and Renee are not only paving the way for another 50 years of Special Olympics, but also for a more inclusive Canada. You can support inspiring families like theirs by making a donation today.