Prince Albert's Al Dyer has been volunteering with Special Olympics Saskatchewan for nearly two decades – but he could never quite put a finger on the root of his passion.
He first got involved in 2000, when he was hired to manage the Special Olympics Canada 2002 Summer Games in Prince Albert, SK. 
"It was such a positive experience that it was just a natural extension to carry on as a volunteer," said Dyer.
He joined Special Olympics Saskatchewan's Board of Directors in 2004, which was a difficult time for the region – there was no Executive Director and the board "was in disarray."
Fortunately, an All-Star team, including Dyer, was assembled and Special Olympics Saskatchewan was pulled out of despair and became the thriving Chapter it is today, with more than 2,200 athletes across the province.
Dyer has held a number of volunteer positions from Board Chair to Mission Staff, travelling around the country with Team Saskatchewan.
His passion for the movement never wavered – and it wasn't until a few years ago that he realized why.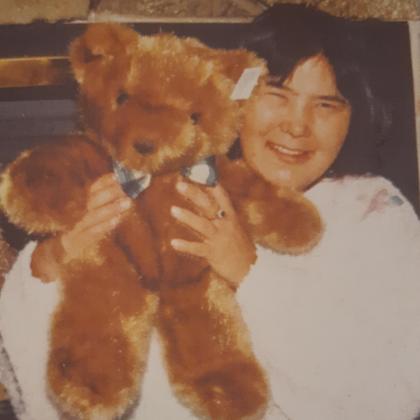 Dyer grew up with a foster sister named Eloise, who had Fetal Alcohol Syndrome. She died several years ago after health complications.
When Dyer helped clean out her belongings from her group home, he came across Special Olympics bowling trophies and medals. Whenever he got together with Eloise , her involvement in sport never came up in conversation. It was an "aha moment" for the longtime volunteer.
"I had no idea she was part of the movement," he said. "This was so meaningful to me, because I was already aware of the incredible value Special Olympics had in the lives of so many of the athletes."
He'd seen firsthand the transformative power and joy of sport – how it provided individuals with an intellectual disability with opportunities in sport and in life.
"It kind of brought home the importance of participating in Special Olympics and I realized she's probably the reason why I have such an affinity for it and the people in the movement," he said.
To this day, he keeps her trophy and medal collection on his desk.
"I look at them all the time," he said. "It means a lot to know that volunteers and coaches gave their time to help her have a good experience and participate as part of a group."
"I'm grateful she had something like that in her life."
Dyer, like so many Special Olympics volunteers, believes he gets so much more out of Special Olympics than he ever puts in.
"Just the number of people that I've had a chance to meet – the athletes, the coaches, the volunteers – the commonality that we have is that we're there for the right reasons," he said. "The athletes, regardless of where they're from, exude the same spirit and joy of sport."
"It is a thing that unifies people from across Canada and it's something that sticks with you, allowing you to apply a lot of that same spirit to your daily activities in regular life."
Click here to learn more about becoming a volunteer with Special Olympics.