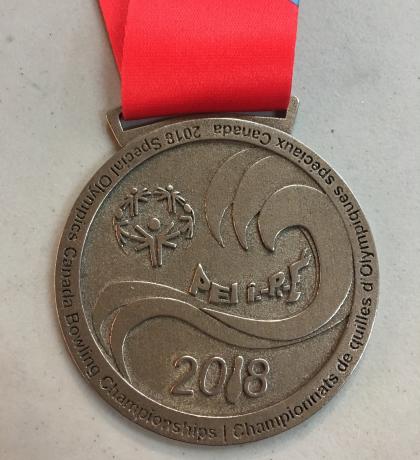 Charlottetown, PE (April 17, 2018) – The Special Olympics Canada 2018 Bowling Championships Organizing Committee welcomed local sponsors, community partners and Special Olympics P.E.I. athletes to the Delta Prince Edward Hotel in Charlottetown, Prince Edward Island (P.E.I.) today, where the Organizing Committee revealed the Championship medals.
The medals were designed by Shoreline Design in Georgetown, P.E.I. The design of the medal began with the desire for it to represent both the athletes and the uniqueness of P.E.I. The size is at the larger end of the allowed medal scale, reflecting Canada's smallest province's large role in Confederation. The province's earliest documented name, Abegweit, is symbolized by the curling waves cradling the "P.E.I.-Î.P.É." in the shape of the Island.
"Thank you to Shoreline Design for creating a beautiful work of art that our athletes will be honoured and proud to wear," said Sharon Bollenbach, CEO, Special Olympics Canada. "The medals, although just one part of the Bowling Championship experience, are a meaningful one and ensure a tangible lasting legacy for all the hard-work our athletes have done to get to this National Championship. I know I am counting down the days until I land in P.E.I. to witness the sportsmanship and comradery of this event and to experience the beautiful province"
Special Olympics Canada 2018 Bowling Championships will take place May 14 to 19, 2018, in Charlottetown, Summerside and Tyne Valley. The Championships are part of the Special Olympics Canada Summer Games, held this year in Antigonish, Nova Scotia. P.E.I. is hosting the 5-pin and 10-pin bowling events and will welcome over 400 inspirational athletes, coaches and support staff from across Canada who have been working hard to pursue their dreams.
The 5-pin competition will be held at the Murphy's Community Centre in Charlottetown. With an event of this scale, the Organizing Committee relies on local sponsors and partners to assist in providing a memorable experience for athletes, volunteers, friends and family while showcasing P.E.I.'s friendly hospitality and culture to the country.
"The City of Charlottetown is excited to host the Special Olympics Canada 2018 Bowling Championships and welcomes all the talented athletes in the Capital City," said Mayor Clifford Lee. "The City's sport tourism initiative SCORE jumped at the opportunity to work with Special Olympics P.E.I. back in 2016 to secure the hosting-rights to this high-profile event. We look forward to welcoming everyone to the capital city next month and wish the athletes best of luck in the final weeks of preparation for this event."
A full list of sponsors to date can be found on the Championships website. For more information about the Special Olympics Canada 2018 Bowling Championships, visit www.specialolympics.ca/2018-bowling.
– 30 –
Media Contact:
Kristen MacDonald
Games Manager, Special Olympics Canada 2018 Bowling Championships
Tel: 902-368-4708
Cell: 902-393-0353
Email: 2018bowling@specialolympics.ca