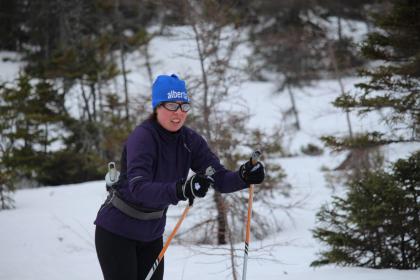 Kristen Hudson is what some might call a multifaceted athlete. During her time with Special Olympics she has participated in everything from indoor and outdoor soccer to bowling to alpine skiing. She runs, bikes, rollerblades, and competes in various winter sports.
But next March Hudson will be focusing all her talents on cross-country skiing as she represents Canada at the 2017 Special Olympics World Winter Games in Austria.
"It's exciting!" said Hudson, the Edmonton-born athlete who has been a member of Special Olympics Alberta for 12 years. "I feel lucky because I didn't think I would ever go to Austria. I'm proud to represent my country."
Hudson will be joined by 11 other Alberta representatives who are part of Team Canada in Austria next March, including athletes, coaches, and mission staff. She said this is her first trip to Europe and her first time competing on the world stage.
"I'm looking forward to meeting new people and skiing somewhere new," she said.
Like so many others, Hudson said the drive to meet new people is what originally drew her to Special Olympics. 
"I heard about Special Olympics when we lived in Winnipeg," she said. "After we moved to Edmonton in 2003, we looked for Special Olympics activities here. I thought it might be fun and I wanted to try something new. I wanted to meet some new people and get some exercise."
"I have made lots of new friends because of Special Olympics."
While this might be Hudson's first time competing on the world stage, she is certainly no stranger to competition, having competed nationally in Quebec, St. Albert, and Corner Brook. 
"I have been to the national winter games three times," she said. "This year I won a gold medal at the Special Olympics cross country race. I really like going on trips and being a part of the team."
Hudson said her most memorable moment with Special Olympics thus far was being a part of the opening ceremonies during the 2016 Special Olympics Winter Games in Corner Brook, Newfoundland. She went on to say that if it wasn't for the tireless efforts of the Special Olympics volunteers, none of this would have been possible.
"Thank you to all the volunteers!" she said. "You work so hard and help me learn new skills and make it so much fun!"
The 2017 Special Olympics World Winter Games are scheduled for March 14-25 and are expected to draw more than 3,000 athletes from 110 countries.
Be sure you cheer on Kristin Hudson and all our Team Canada members. Show your Team Canada pride as they enter the final months of training by following the action on social media #SOTeamCanada17 #Austria2017 @SpecialOlAlberta @2017Austria.