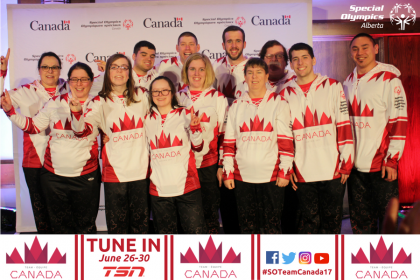 We are so proud of Team Canada and the athletes who competed at the 2017 Special Olympics World Winter Games in Austria and so is TSN. 
Starting June 26 TSN will be airing a feature on Team Canada featuring some of our athletes reflecting on their experiences in Austria.
The feature will air six times throughout the week, which gives you plenty of opportunities to tune in and witness the #heartbeatoftheworld one more time!
| DATE | TIME (ET/PT) | NETWORK |
| --- | --- | --- |
| Monday, June 26 | 8:00pm/5:00pm | TSN 1, 3, 4, and 5 |
| Tuesday, June 27 | 3:00pm/12:00pm | TSN5 |
| Wednesday, June 28 | 1:00pm/10:00am | TSN3 |
| Thursday, June 29 | 12:30am/9:30pm (Wednesday) | TSN2 |
| Thursday, June 29 | 12:30pm/9:30am | TSN4 |
| Friday, June 30 | 1:00pm/10:00am | TSN1 |