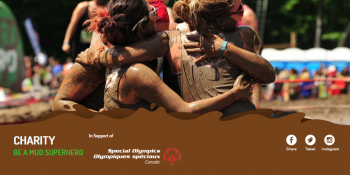 Mud Hero proudly announced that Special Olympics Canada is the charity of choice of 2017. 
This year we plan to support Special Olympics Canada in not only fundraising, but instilling confidence, self-esteem, physical activity, and an inclusive society to all athletes and Mud Heroes. We are so proud to support all the children, youth and adults within Special Olympics Canada and we look forward to an exciting summer of mud, fun, and community! - Mud Hero
To honour Canada's 150th this year, each Mud Hero participant who raises $150, or donates $150, will be entered into a draw to win a $1000 travel voucher for Red Tag Vacations!
Mud Hero's goal is to raise $200,000 for Special Olympics Canada. 
Be sure you check out and be part of the Mud Hero experience: 
Mud Hero Ottawa: June 3/4, 2017
Mud Hero Montreal: June 17, 2017
Mud Hero Halifax: July 8, 2017
Mud Hero Winnipeg: July 29, 2017
Mud Hero Alberta: August 12/13, 2017
Mud Hero Toronto North: August 26/27, 2017
For information on Mud Hero, www.mudhero.com.