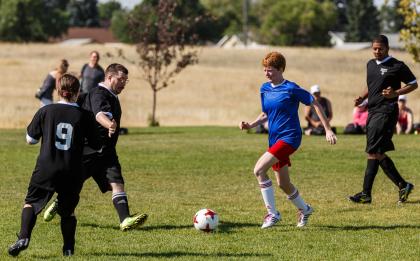 The last two weekends have been action-packed for Jenny Murray and the Edmonton Strikers soccer team who recently competed at both the Special Olympics Alberta Summer Games in Medicine Hat and the inaugural Special Olympics Ontario Women's Soccer Festival.
Murray has been playing soccer for the past six years and joined Special Olympics in 2012 as she enjoys the challenge of playing in tournaments.
The Strikers are a tight knit group of girls who emphasize that training and teamwork are keystones to their success.
"My best memory with Special Olympics was going to Regina for a tournament in 2016 because I like excitement of tournaments and I love road trips. We bonded as a team and there's no better road trip than with your buddies," said Murray.
As a team they were well prepared for both events, practicing twice a week along with endurance training.
The practices paid off as Murray and her teammates found success in Medicine Hat coming away with silver medals in Pool B.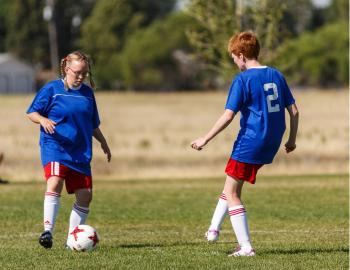 "My coaches are really amazing, dedicated and they push us to reach our goals. Our coaches cheer us on by being very supportive and teaching us how to be better soccer players in a positive way." – Murray
The team travelled last weekend to the first ever Special Olympics Ontario Women's Soccer Festival and the first all-women's Special Olympics soccer event in Canada.
The opportunity was significant for Murray who claimed "As [long as] I have been an athlete with Special Olympics this is the first all-women's soccer tournament. It means a lot to me because, when we compete, we are always competing against men's or mixed teams and there really isn't a lot of competition for us being the only women's team in Alberta."
The Strikers again performed extremely well walking away with gold medals after winning four consecutive match-ups.
Murray described the event as amazing as she was able to further bond with her teammates through travelling and their play on the pitch.
"Before I started with Special Olympics I was really quiet, but now I'm more outspoken. [Special Olympics] has taught me to be active and have good sportsmanship." – Murray on Special Olympics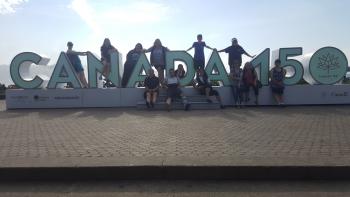 Reflecting on the event Murray says there was one memory that stands out from the event: "There was one team where we could've creamed them really bad because they were [new] to soccer, but instead we helped them learn the game [and] even let them score on our net. Our coaches were really impressed with us. We were even cheering for them after we were all done our games. It made me feel so good."
Amanda Trenchard, coach of the Strikers, was extremely pleased with her team and their sportsmanship throughout the event stating "To impact these athletes and show them what life is all about not only in success, but also in having empathy for others and helping them to also have successes is truly why I coach and it is such an honour to coach these ladies. I was so proud of them his weekend."
Murray had nothing but amazing words for her coaches and the team was sure to honour Trenchard by emptying the water bottles on their winning coach.
The Strikers were able to explore Niagra Falls and will now have a break as Murray looks forward to training for winter qualifiers in snowshoeing.