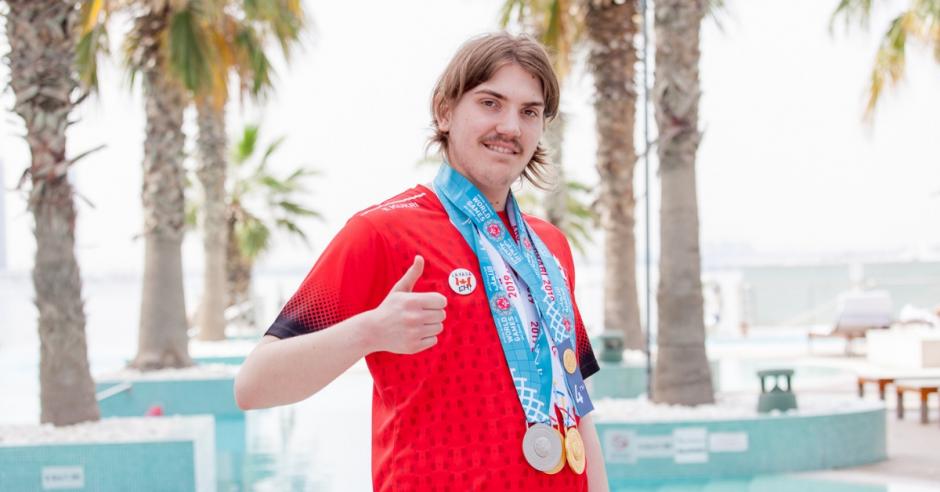 Competing at the Special Olympics World Games Abu Dhabi 2019 was the "greatest opportunity" of Colby Kosteniuk's young life so far.
While the 17-year-old from Regina has previously travelled outside Canada, "this was bigger than anything I've ever done before," he said.
After four years as a Special Olympics athlete, Colby qualified for SO Team Canada 2019 as a swimmer. He compete in the 400, 800 and 1500-metre freestyle events, as well as the 4x100-metre medley relay. 
He earned two gold medals (400-metre and relay), as well as a silver (1500-metre).
According to SO Team Canada coach Jackie Powell, "he blew it out of the water."
"He did amazing. He swam three distance events and one of them he had never competed in previously," she said. "I had selected events that would push him and he accepted the challenge."
Colby isn't one to shy away from a challenge. 
According to the high school student, the biggest challenge he's overcome outside of the pool was presenting a project on autism in front of his peers at F.W. Johnson Collegiate.
Presented as a Ted Talk, Colby explained how a brain with autism functions and the positive attributes that can come with it.
"I told them that even though we probably don't behave the way as other people, we still have normal lives," said Colby.  "Honestly I think having autism actually made me smarter."
He received a 94 per cent in the course.
"I'm just glad I was brave enough to get up there and have my voice heard," he said.
Colby credits Special Olympics for giving him the confidence to take on challenges in both sport and life.
"When I was young I felt alone and I felt like there was no one I could relate to," he said. "But when I joined Special Olympics I found people just like me. It's helped me interact with people."