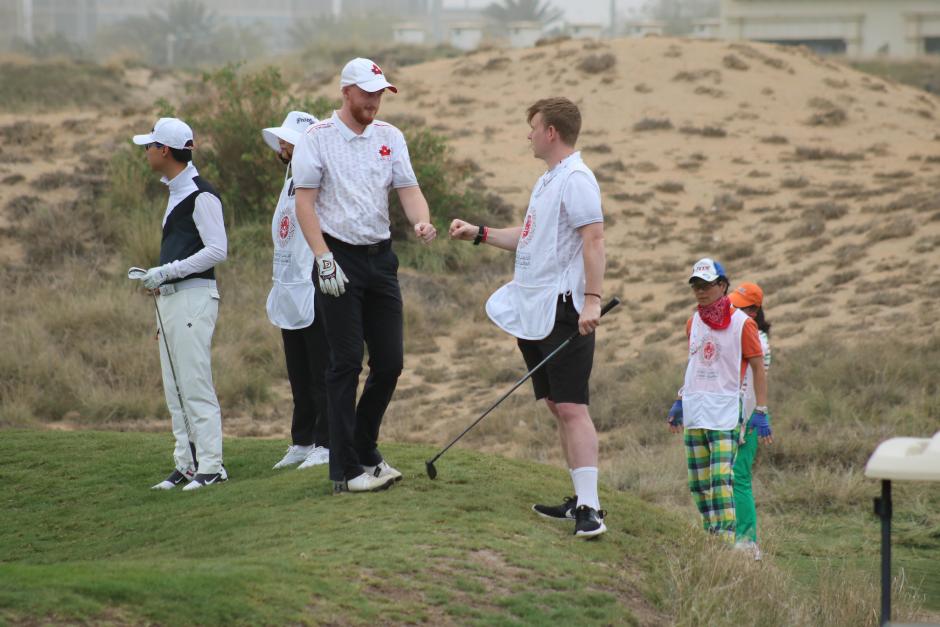 Some may say Special Olympics Team Canada golfer Jack Houlahan – who took fourth place after shooting a 42 his final day at World Games – has an advantage on the course.
The majority of the team's golfers have a parent or coach as caddie at the Special Olympics World Games in Abu Dhabi, but 25-year-old Jack gave the job to his older brother Mitch.
While Jack believes caddying would benefit his father's game, he's glad it's his brother with him.
"I trust him," Jack said. "It's a lot of fun with my brother here."
It's rare to find the pair together outside of the course, though.
"He's so independent," said Mitch. "We like our space. I feel like it actually improves our caddie-golfer relationship to spend time apart and let him do his thing."
Mitch has been Jack's caddie for three years, which has helped them develop a solid routine and relationship on the course.
"He's all business," said Mitch, adding that quotes from the Adam Sandler golf comedy Happy Gilmore are off limits.
The pair have travelled across Canada, the United States and now the globe.
For Jack, a favourite moment was winning a gold medal at a Special Olympics North America golf tournament in Seattle with his brother on the bag.
And for Mitch, it was the Special Olympics Ontario Games in Caledon two years ago.
"The last hole at Provincials when he sunk a 30-foot putt in front of the gallery and actually high fived me," said Mitch. "That was a big moment."
Once Jack and Mitch come back from the World Games,  they'll gear up for their next competition: a Special Olympics North America golf tournament in Nashville this summer.
For now, Jack will return to coaching at The Range in Milton and pass on what he's learned on the world stage to young golfers.