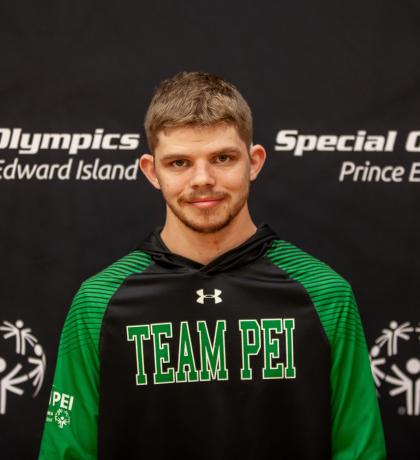 Matthew Gallant, Montague, is a member of Team PEI 2024's Curling team. Matthew is new to both Special Olympics, and competitive curling.
Matthew joined Special Olympics 3 years ago. He wanted to meet new people. In addition to curling, Matthew also participates in swimming, and, so far, Matthew really enjoys the sports he has been involved with. Looking ahead to the 2024 Special Olympics Canada Winter Games, Matthew is looking forward to visiting a new province, meeting new people, and representing PEI.
Matthew's favourite Special Olympics moment, to date, was competing at the Special Olympics New Brunswick Provincial Winter Games in February, 2023. He had a lot of fun at his first Special Olympics competition, and is eagerly looking forward to National Games!
In February / March of 2024, Special Olympics PEI will be represented by 33 athletes, supported by 21 coaches and mission staff, at the Special Olympics Canada Winter Games 2024 in Calgary, Alberta. Team PEI will compete in 7 sports: 5-Pin Bowling, Cross Country Skiing, Curling, Figure Skating, Floor Hockey, Snowshoeing, and Speed Skating. Be sure to follow along between now and February as we continue to Meet Team PEI 2024!
Supporters of Special Olympics PEI are invited to follow Team PEI 2024, both in the lead-up to, and during the Special Olympics Canada Winter Games 2024! Our Team PEI 2024's website will be updated with schedules and results during the Games, and our social media channels - Facebook and Instagram, will have photos and up to the minute news and highlights.
SUPPORT TEAM PEI
If you would like to support athletes like Matthew as he trains to represent PEI at the Special Olympics Canada Winter Games 2024, please consider either Drafting an Athlete or donating to the Team PEI Booster Club.