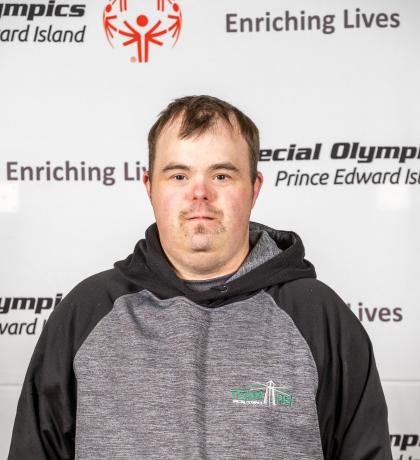 Travis Perry, Miscouche, has been involved with Special Olympics PEI for over 22 years. Back when Travis was 13 years old he began casually bowling with Special Olympics. Travis soon decided that bowling was not the right pace for him - he wanted something more excited! This is when Travis started playing Floor Hockey, and it was love at first practice! Travis enjoys Floor Hockey, and never wants to miss a practice.
Travis has been participating with the Summerside Floor Hockey program now for 20 years. Floor Hockey is a family affair, with his father, Garth, being one of the program's Head Coaches. Over the years Travis has made lots of great friends through Special Olympics, and through Floor Hockey. He gets along well with the other athletes, both at the Summerside program, and with the Charlottetown Floor Hockey athletes. Through opportunities like Team PEI and travel to Provincial Games, Travis' peer group has grown, and he often has the opportunity to interact with Floor Hockey athletes from across the province.
The Special Olympics Canada Winter Games 2020 in Thunder Bay, Ontario will be Travis' second National Games, although his first time attending National Games as a member of the Floor Hockey team. Travis' drive to be a member of Team PEI Floor Hockey was ignited back in 2009 / 2010 when he was an alternate for the Floor Hockey team. Back then he was excited to train with Team PEI, but he was even more excited about the opportunity to be on the official team roster himself someday. Travis is thrilled about the opportunity to represent PEI on the National stage, and he tells everyone! He is most excited to be a part of a team - this sense of belonging is important for Travis.
In the lead-up to the National Games, along with his training, Travis is active in fundraising efforts in Prince County. Travis is always quick to volunteer to help out a various fundraising events hosted with the Prince County Parents' Fundraising Group. His outgoing nature makes him a natural when it comes to bagging groceries or working at yard sales.
Outside of Special Olympics Travis attends Community Connections in Summerside. Travis participates in the Employment Opportunities Program, through which he delivers city mail and flyers four days a week. In his community of Miscouche Travis is an honorary Fireman at the Miscouche Fire Department. He spends Monday evenings at the Fire Department, and is invited to all of their functions.
SUPPORT TEAM PEI 2020
If you would like to support Travis and his Team PEI 2020 teammates please consider joining the Team PEI 2020 Booster Club.