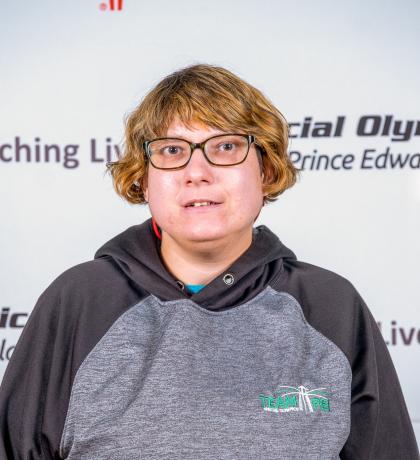 Christi - Joe (CJ) Snyders - Couchman, Tignish, is a member of Team PEI 2020's Snowshoe team. CJ is one of two Team PEI Snowshoe athletes who will be representing PEI at the Special Olympics Canada Winter Games 2020 in Thunder Bay, Ontario.
CJ has been involved with Special Olympics, first in Ontario, and now in PEI, since she was in grade school. Back when her family lived in Ontario, CJ participated in 10-Pin Bowling, coached by her mother, Josephine Clements, in her community. Through her school, CJ also participated in Track and Field. When CJ's family moved back to PEI briefly in 2005 she began 5-Pin Bowling in Alberton. When the family moved back to PEI permanently in 2012 CJ, along with 5-Pin Bowling, also started participating in Track and Field.
Up until 2012 CJ used a wheelchair. Now, with the goal of continuing to keep CJ out of a wheelchair, CJ and Josephine are focused on building muscle tone, something snowshoe plays a role in. Other training opportunities for CJ include working out at the local gym with her mom, swimming, and doing yoga. Josephine is very proud of CJ. She loves seeing CJ moving, and cannot speak highly enough about the health benefits of increased mobility. Added to this, Josephine knows how much CJ loves being active and moving. Together, CJ and Josephine are working to find new ways to motivate CJ, and to keep her moving. One of CJ's recent motivations was running a new personal best in a 5k race (55 minutes) this past summer.
CJ began snowshoeing in the winter of 2018-2019. CJ quickly had the opportunity to represent PEI, competing at the 2019 Special Olympics New Brunswick Provincial Winter Games. CJ's best memory for Provincial Games is working hard, and being recognized for her accomplishments - CJ won 3 medals at Provincials, 1 Gold and 2 Bronze.
Looking ahead to National Games, CJ is most excited to meet new people, and for the opportunity to potentially find a pen pal. She is also looking forward to flying, and the chance to win a medal. This will be CJ's first time travelling to Games with Team PEI by herself, and her first National Games. Josephine will be traveling to Thunder Bay, along with CJ's grandmother, to cheer CJ on!
SUPPORT TEAM PEI 2020
If you would like to support CJ and her Team PEI 2020 teammates please consider joining the Team PEI 2020 Booster Club.