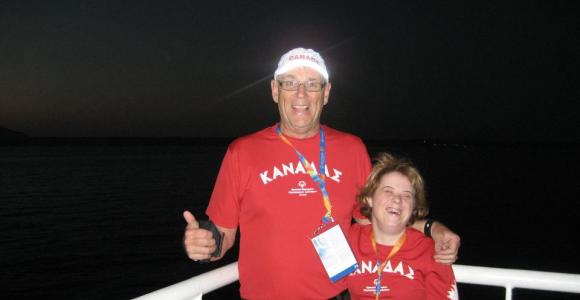 When Winnipeg's Gord Stewart was introduced to Special Olympics in 1981, he didn't have much experience in coaching or working with individuals with an intellectual disability.
He figured he'd be a decent "one-hour coach" and add value by volunteering one night a week.
Little did he know 40 years later – at 73-years-old – he'd still be coaching his swim team Monday nights and consider some of the athletes his best friends.
"One hour turned into almost 39 years," said Stewart, who was Special Olympics Canada's Male Coach of the Year in 2006. "We have a family here."
His involvement goes beyond the team's regularly scheduled training at the YMCA on Winnipeg's Kimberley Avenue. He also has the team, their families and volunteers over for barbecues, as well as an annual Christmas party. 
"We've had so many laughs over the years," he said, recalling a time he was thrown in the pool with his clothes on, or was woken up by a water gun at a Special Olympics World Games. 
As he became comfortable as a swim coach – taking courses and certifications – he realized his team could handle more than one practice a week.
Before a Special Olympics Canada Summer Games in the late 1980s, he increased his team training to four nights per week – and they excelled at the national competition.
"It always bugged me when people assumed Special Olympics athletes aren't really athletes – or that we don't train as hard," said Stewart. "It's not just a fun time that we go out and play in the pool." 
"Give them the opportunity and they'll prove you wrong."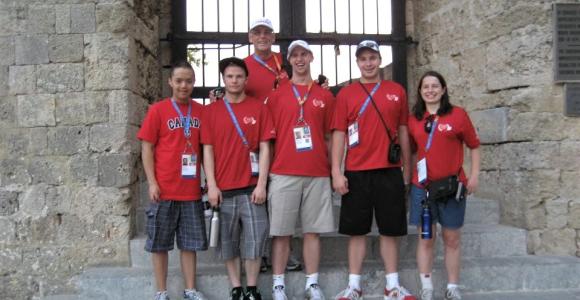 He's since coached at a number of National Games as well as Special Olympics World Games, including Shanghai, China (2007) and Athens, Greece (2011). He also helped make Special Olympics Manitoba swim meets sanctioned events, ensuring they follow Swim Manitoba rules and protocols, from timing to refereeing.
He and his wife Nancy – who also volunteered alongside their children over the years – went as far as creating a manual on how to run a sanctioned swim meet, which was used widely across the province at the time.
"We're not like the generic clubs exactly, but we want to try and get as close to those as possible, so we're recognized as athletes," said Stewart.
According to Special Olympics Manitoba CEO Jennifer Campbell, Stewart became one of the Chapter's strongest swim coaches and a mentor to those who followed.
"He didn't stop with coaching, he ran swim meets, developed manuals, got his family involved, raised his kids and volunteered with other sport events and competitions," said Campbell. "Gord has a passion for his athletes and has always looked at what he can do better to be the best for them."
"Special Olympics Manitoba would be a very different place without Gord Stewart."
For Gord, his unwavering dedication over the past four decades is simple.
"I do it because of the athletes," he said. "I don't know what I'd do come around to Monday and I'm not coaching."
To learn more about volunteering with your local Special Olympics club, click here.