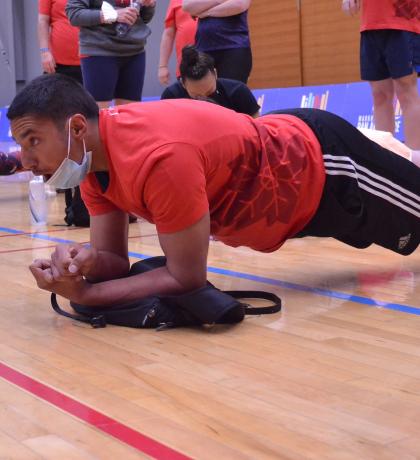 After nearly two years of virtual training, Special Olympics athletes and coaches were finally able to come together and reunite in person at the Special Olympics Team Canada 2022 Training Camp last weekend.  With 161 athletes, coaches, and mission staff from across the country in attendance, the event was a long-awaited celebration. One of the 108 athletes to participate was Michael Budden of Stephenville, Newfoundland and Labrador.
A Special Olympics athlete since 2016 and a multiple medal recipient at the National and Provincial level, Budden is currently a member of the Special Olympics Team Canada cross-country skiing team.  He is one of only two athletes from Newfoundland and Labrador to earn a spot on the Worlds roster.
Budden was certainly prepared for the fitness testing portion of the Training Camp weekend, as he posted an athlete best time of 7 minutes and 40 seconds in the holding plank challenge.
"I was definitely getting tired after five minutes, but with everyone's encouragement I wanted to keep going," says Budden. "I'm proud of myself because it was a personal best time."
A first-time Special Olympics Team Canada member, Budden admits that he can't believe he's made it to competition at the world level, especially given the way his Special Olympics career started.
"I actually didn't know Special Olympics existed," says Budden. "I was just told about this Special Olympics club for people with exceptionalities in Stephenville. Then as we started competing, I had no idea Nationals existed either. After learning how far Special Olympics can take you, I started training and getting more into it. Before I knew it, I was at Provincials, then Nationals and then chosen for Worlds."
For Budden, winning awards and medals is not his only motivation to compete – he's also driven by his desire to improve his conditioning each day.
"For me it's about getting faster and getting stronger," he shares.
Coming from a small town in Newfoundland and Labrador where, "resources for athletes with intellectual disabilities are limited," being a part of the Special Olympics family is something Budden doesn't take for granted.
"Special Olympics helps to give people like me a sense of purpose – you can make something of yourself," Budden explains.  "It's something people can do where they feel like they have the world in their hands."
We can't wait to see where your Special Olympics journey takes you next, Michael!