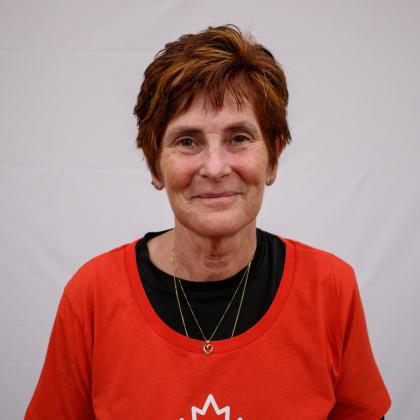 Renée
Stewart
SPORT: Athletics
PROVINCE: Ontario
How long have you been involved with Special Olympics?
Twenty-two years.
How is your life different since joining Special Olympics?
These athletes are really special people. I love being around them, they make me smile. They challenge me as a coach to work harder to help them accomplish their goals. I am a very proud coach to be helping these special athletes/people.
What do you like most about the sport you will be competing in at Special Olympics World Summer Games Berlin 2023?
I love the camaraderie. The inclusion of all special people. I love how they cheer each other on, and they are happy about everyone's accomplishments. Athletics is an all-around sport, so anyone can compete and excel.
What is your proudest moment with Special Olympics?
I had two recreational athletes compete at the same time in the 50-metre race. Our smallest athlete fell, and our largest athlete went back to help him up, and encouraged the smallest athlete to finish. They were arm in arm crossing the finish line. To me, they both won gold that day and my heart grew for these athletes. So proud of them.
What does Special Olympics and attending World Games mean to you?
This is a wonderful family for all athletes, coaches, and mission staff. I am a proud Canadian and a prouder coach to be coaching these Special Olympics athletes.
What is your goal for Special Olympics World Games Berlin 2023?
My goal is that all athletes get the full experience from the Games, enjoying the journey and reaching all their goals.