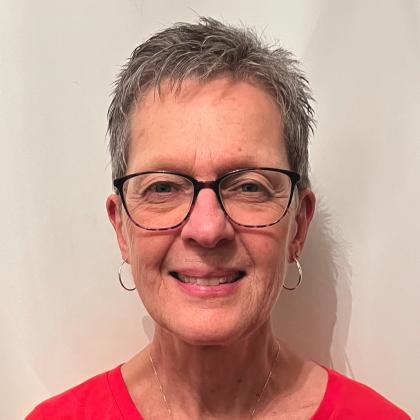 Helen
Johnston
SPORT: Basketball
PROVINCE: Ontario
How long have you been involved with Special Olympics?
Twenty years.
How is your life different since joining Special Olympics?
I've learned to appreciate that achievement is more than a result.
What do you like most about the sport you will be competing in at Special Olympics World Summer Games Berlin 2023?
Although the athletes on the athletics team will be competing individually, they have been working as a team to support and encourage one another.
What is your proudest moment with Special Olympics?
I don't have just one – there have been many. This includes watching one of my swimmers swim the entire length of the pool unassisted for the first time, watching one of my snowshoers demonstrate the ultimate in sportsmanship when he stopped to help a fallen competitor, learning that one of the athletes I coached at home won a gold medal at World Games, and being selected as an alternate to the Special Olympics Team Canada Training Squad.
What does Special Olympics and attending World Games mean to you?
It's a pinnacle moment in my commitment to providing our athletes with opportunities to do the best they can.
What is your goal for Special Olympics World Games Berlin 2023?
To help make sure everyone has a memorable and fun experience.