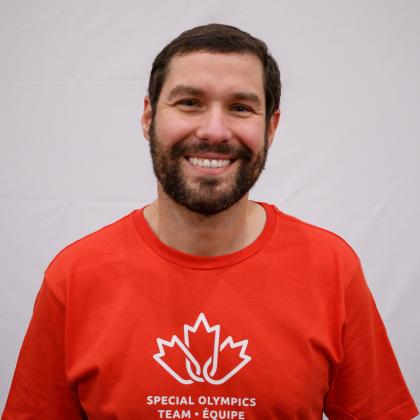 Evan
Krofchick
ASSISTANT COACH - SWIMMING
PROVINCE: Ontario
How long have you been involved with Special Olympics?
For 28 years.
How is your life different since joining Special Olympics?
Since I started when I was about 12 years old, it is hard to think of my life without Special Olympics. It is a constant in my life, reminding me always that inclusion is a never-ending quest and the power of sport.
What do you like most about the sport you will be competing in at Special Olympics World Summer Games Berlin 2023?
Swimming allows the athlete to shine on their own while having their team's support. The endurance and technique required for success make it an exciting sport to coach and see during competition.
What is your proudest moment with Special Olympics?
Watching my athletes receive their medals at the last National Games in Nova Scotia, seeing them be rewarded for their years and years of hard work.
What does Special Olympics and attending World Games mean to you?
It is a true honor and a has been a goal of mine for many years to represent my country through Special Olympics. Having the opportunity to be part of a team that shows the world the power of sport and inclusion means a lot to me!
What is your goal for Special Olympics World Games Berlin 2023?
To see my athletes, succeed while having an experience that is both exciting and life changing.