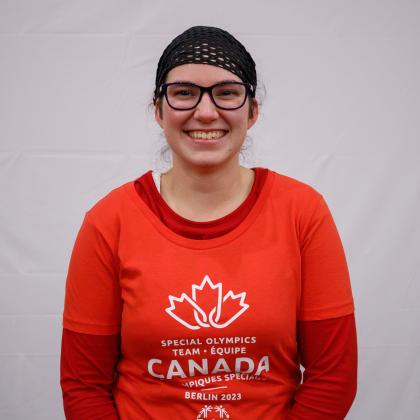 Marley
Gayler
SPORT: Powerlifting
PROVINCE: Ontario
How long have you been involved with Special Olympics?
14 years.
How is your life different since joining Special Olympics?
I have become more social as I enjoy being around all the athletes in the sports, I participate in. I got to try different sports and I have many great experiences because of the practices, tournaments and competitions.
What do you like most about the sport you will be competing in at Special Olympics World Summer Games Berlin 2023?
I like lifting heavy weights.
What is your proudest moment with Special Olympics?
My proudest moment is being selected for the Berlin World Games.
What does Special Olympics and attending World Games mean to you?
It makes me feel excited to be representing my country and experiencing it with so many other Special Olympics athletes.
What is your goal for Special Olympics World Games Berlin 2023?
My goal is to lift my goal weight for all lifts.