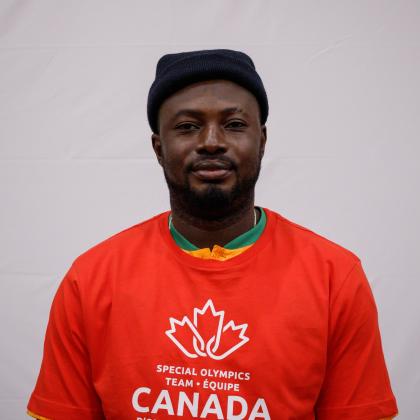 Franck
Koffi
SPORT: Basketball
PROVINCE: Ontario
How long have you been involved with Special Olympics?
Twelve years.
How is your life different since joining Special Olympics?
Being in Special Olympics has given me a family. Being surrounded by people who understand me is wonderful.
What do you like most about the sport you will be competing in at Special Olympics World Summer Games Berlin 2023?
Give us the chance to realize our dream and to be special people for ourselves and our families.
What is your proudest moment with Special Olympics?
Playing in the NBA Cares Special Olympics Unified Basketball Game in 2017 for the NBA All-Star weekend that took place in New Orleans is my proudest moment.
What does Special Olympics and attending World Games mean to you?
It means representing a country, a family, and raising the flag high.
What is your goal for Special Olympics World Games Berlin 2023?
My goal is to win and also to be proud of myself.