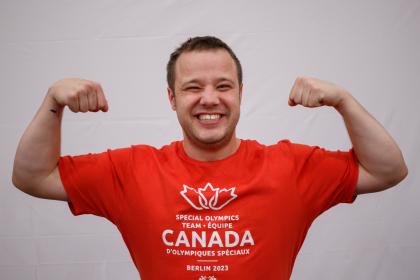 David
Nicholson
SPORT: Powerlifting
PROVINCE: Alberta
How long have you been involved with Special Olympics?
I am not 100% sure but approximately 20 years.
How is your life different since joining Special Olympics?
I have loved meeting new friends and love always learning and improving my skills at the different sports. Special Olympics is the highlight of my life. It has helped boost my confidence, created a social outlet and improved my health in every way .
What do you like most about the sport you will be competing in at Special Olympics World Summer Games Berlin 2023?
I love the training. I love pushing my body to become stronger. The competitions have been lots of fun. I have met amazing coaches, athletes, and trainers. The sky is the limit in what I can accomplish.
What is your proudest moment with Special Olympics?
My proudest moment was competing in the National games in Antigonish , Nova Scotia and qualifying for Team Canada Berlin 2023.
What does Special Olympics and attending World Games mean to you?
It means everything in the world to me. I have worked so hard to accomplish this huge goal. I am so excited to participate in powerlifting representing my country.
What is your goal for Special Olympics World Games Berlin 2023?
My goal is to proudly represent Team Canada and be prepared, and do the very best I can do in the competition. This journey is so exciting.