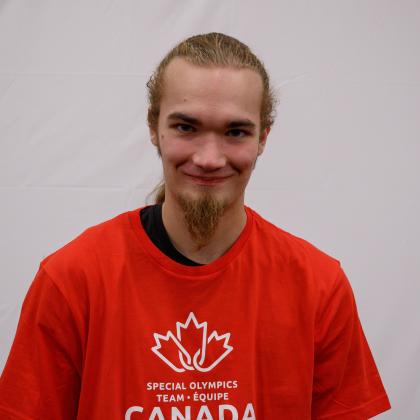 Curtis
Cook
SPORT: Athletics
PROVINCE: Ontario
How long have you been involved with Special Olympics?
Twelve years.
How is your life different since joining Special Olympics?
I've gained confidence, learned new skills, and travelled to new places. I never knew about speed skating – the second sport I started with at Special Olympics – and I love it. It's given me freedom and helped me both physically and mentally. Sport opened up a whole new world for me, and allowed me to have a truly unique high school experience. I am the first disabled and Special Olympics athlete to graduate from the four-year high school program at the Abilities Centre, in Whitby, Ontario, where I graduated from ASAD, the Academy for Student Athlete Development. I attended ASAD for half a day, every day, to train in my sport. And then attended my regular home school. It took discipline and dedication to commit to this type of schooling. Special Olympics supported my journey at ASAD, as did the Jumpstart Foundation.
What do you like most about the sport you will be competing in at Special Olympics World Summer Games Berlin 2023?
I like the freedom of running, the speed. I also like winning medals, obviously. :-) I like how training for this sport pushes me and my endurance, which helps my overall physicality = which is a benefit to managing my cerebral palsy and prevents muscle atrophy. Running is also the closest thing to speed skating that i know of. I like the speed.
What is your proudest moment with Special Olympics?
For me that would be the first time I ever won a medal – that was a long time ago. :-) I was also really proud to go to National Games. That was a great experience.
What does Special Olympics and attending World Games mean to you?
I feel like I belong to an important community that has given me opportunities that I would not have gotten otherwise. I am proud to represent my country on the world stage. It is important to showcase our ability as a special needs community and show that we can!
What is your goal for Special Olympics World Games Berlin 2023?
Bring home at least one medal!!