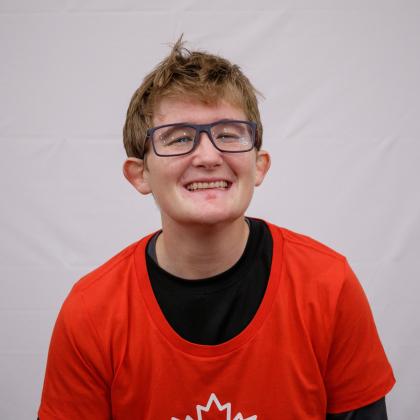 Ashley
Thomas
SPORT: Women's Soccer
PROVINCE: Nova Scotia
How long have you been involved with Special Olympics?
Since 2012.
How is your life different since joining Special Olympics?
My life has changed tremendously when I first joined Special Olympics, I know I kept to myself a lot but now I feel so confident. Every time it's time for practice I get excited and always want to be the first one to show up and last to leave because I have so much fun playing soccer. Whether it's doing drills, playing little games against each other or warming up - it's like a second family. I know I am always welcomed to be myself I don't have to pretend to be anyone I am not. I show up, have fun and enjoy being with my teammates and coaches. I enjoy learning about myself and how I can always improve and get better so I can be the best athlete I can be. to answer the question special Olympics has helped me gain confidence and keep me always wanting to improve and learn about myself everyday.
What do you like most about the sport you will be competing in at Special Olympics World Summer Games Berlin 2023?
Soccer is fun, Soccer is life. Being at the field for me means no anxiety or no worries it feels awesome running around at the field or having a ball at my feet. To put in perspective let's say I was having a bad day or my anxiety was at a 10 that day if I was to get a soccer ball out or have soccer practice that day it's an instant relief to feel good. I know when I have a ball at my feet or I step on the field its natural I feel free, on top of the world, I can let my feet do the talking.
What is your proudest moment with Special Olympics?
By far my proudest moment is getting selected for team Canada women's soccer team 2023. It is awesome that I'll get to show the world what I can do on the field, well also being part of a team and representing Canada. My second proudest moment was when my local team named me captain of my soccer team. It was awesome that my coaches gave me the honor of being captain it was amazing that I got to be captain, and I wanted nothing but to make my coaches and teammates proud and myself proud .The third moment was in a practice game we were playing and I scored an incredible header and was buzzing the rest of the night I picture that moment a lot. The fourth moment, I think it was my second year playing at provincials, but it was my very first goal that I ever scored. I remember very vividly in the second half my coach yells at me from the sideline to push up and I did the ball comes to me and I score it in the net. I was so excited; I ran over to the sidelines and high fived my whole team. I was beaming as it was my first goal for provincials. We ended up losing that game, but I was just so thrilled that I scored my very first goal.
What does Special Olympics and attending World Games mean to you?
It means the world, it means being myself, it means family. I feel so connected to my soccer, my teammates and coaches for Team Canada. I love talking to everyone and getting to know them even though we can't practice in person because we live all over Canada we talk online and when we do get together make the most of every opportunity and keep improving whether it be physically or mentally. I love my Team Canada soccer team, so being a part of Special Olympics means connection, family, acceptance, smiles, and always being able to be myself.
What is your goal for Special Olympics World Games Berlin 2023?
My goals are simple. Show the world my skills on the field and how much I care for soccer. Have lots of fun on and off the field with all my soccer teammates, coaches and mission staff. Continue to improve physically and mentally. To learn about myself, I've already learned from my first training camp from when one of my coaches told me 'Being nervous, means you just care for the game'. So now, anytime I feel nervous I think of that wanting to make Geoff, Mike, Emily and all my teammates proud.