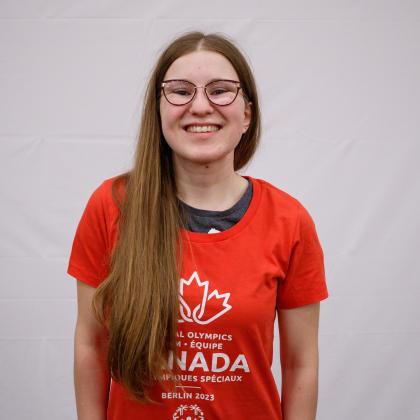 Annick
Léger
SPORT: Athletics
PROVINCE: Ontario
How long have you been involved with Special Olympics?
Fifteen years.
How is your life different since joining Special Olympics?
I have gained confidence, strength, poise, and made a lot of friends.
What do you like most about the sport you will be competing in at Special Olympics World Summer Games Berlin 2023?
I like the running, the cardio, and the training. I like to see how fast and how far I can run.
What is your proudest moment with Special Olympics?
Making it to the last World Games and standing on the podium for Canada.
What does Special Olympics and attending World Games mean to you?
Making friends, being active, and travelling to meets.
What is your goal for Special Olympics World Games Berlin 2023?
To do my best and beat my time. And share this experience with my coaches and teammates.