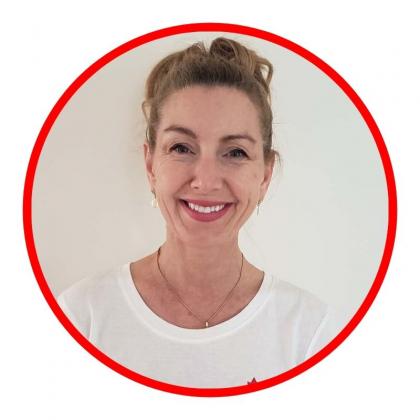 Marie
Powell
Assistant Coach - snowshoeing
How long have you been involved with Special Olympics?
I have been coaching for 11 years consecutively. However, I originally started coaching with Special Olympics during university as part of my volunteer contribution portion of my degree. I coached Track & Field (as it was called) then for 4 years and paused when I started my family, with the goal of returning when the opportunity came. I returned in 2010 and have been coaching for 11 years strong since. My grand total = 15 years.
What has been your highlight from the journey on the Training Squad so far?
I have had several highlights, and it's difficult to choose just one, as they are all so special. One of my highlights has been the virtual ZOOM meetings as they have offered us a valuable way of connecting amidst the pandemic restrictions. They are a silver lining above conference calls because we get to see each other, and it feels like we are together. I have enjoyed meeting our entire NTP team via ZOOM, as well as getting to know our Snowshoeing team members through it. I cherish my monthly ZOOM sessions with my four athletes that I have been assigned to, as they are a great way to bond, discuss valuable topics and even workout together. I feel very blessed to be working closely with such dedicated, supportive athletes and local Training Coaches whose commitment, determination and positive attitude is inspiring for others. Another highlight has been the opportunity to continue to coach athletes at an elite competitive level, amidst pandemic restrictions. Moving forward as NTP has been a positive element in our lives that enabled us to focus on athlete development, including mental performance that has helped us manage through the challenges that isolation and C-19 may otherwise present. It has provided 'normalcy' and confidence and an opportunity for social connection that has been healthy for team members and so necessary to keep our athletes physically and mentally fit and ready for Games.
What are you most looking forward to about the 2022 World Games?
There is so much I am looking forward to, including the travel experience with the team, cheering on our athletes, having conversations with them prior to and after competition, as they prepare and reflect, and building life-long friendships with the coaches I am blessed to work alongside. Besides that, I am also looking forward to seeing Kazan, feeling what it offers, and creating memories there with our Canadian team. I look forward to meeting athletes and coaches from other countries, connecting with them, and feeling the unity and inclusion that the World Games exude. I look forward to bringing all that I learn and experience back to Canada to help further educate understanding for the Special Olympics movement within local program and community.