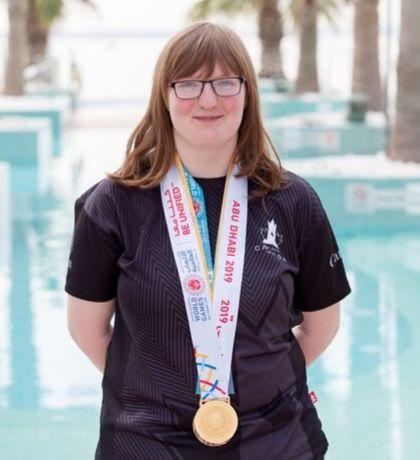 Tia is from Englefeld Saskatchewan and participates in swimming and floor hockey. Recently, Tia was recognized as an athlete of the year award recipient by Special Olympics Canada. Tia had incredible success in personal achievement and development throughout her swimming career thus far. So much so, that when Tia started swimming approximately 5 years ago, she was wearing a life jacket to practices or an aqua belt. As her confidence in her abilities grew, she began to swim all on her own.
Tia was so incredibly motivated by her achievement, that she started participating on her own in public lane swimming for additional practice. She honed her skills and qualified to participate in the Special Olympics Saskatchewan Provincial Games, and from there was selected for Nationals. At Nationals, she was swimming longer distance races and discovered how much she truly enjoyed them. This all culminated in Tia being able to compete and medal in her races - not only at Nationals - But also at the World Games in Abu Dhabi! Tia brought home gold in the team relay and bronze in the 800-meter freestyle at the World Games.
Tia is a true role model for athletes that have intellectual disabilities. She is an Athlete Representative on her local Community Executive Committee and is a strong advocate for Special Olympics. Tia genuinely wants to see others succeed as well, and will do whatever possible to help them reach their full potential. She has inspired others to be champions and encourages her teammates to be the best they can. Congratulations Tia!
*The Special Olympics Canada National Awards Night took place on November 14th in Toronto.