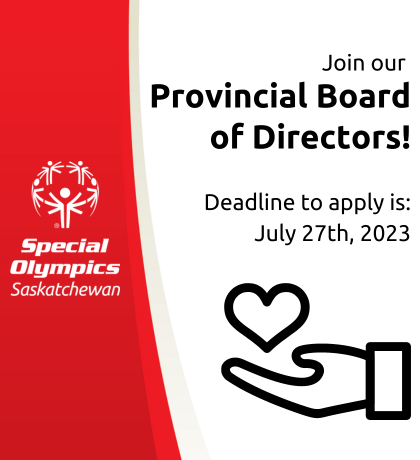 Special Olympics Saskatchewan is Searching for New Board Members. Are You The One?
Special Olympics Saskatchewan is searching for new Board Members! If you know someone that would be a perfect person to be one of Special Olympics Saskatchewan's Board of Directors, or feel that you would be an excellent candidate yourself, consider applying!
The primary criteria is a genuine interest and commitment to contributing to the governance of Special Olympics Saskatchewan for the betterment of the province as a whole. Individuals with a desire to make a contribution to the growth of the organization who do not fall into noted categories found in the Nomination Letter below are still welcome.
2023 Board Recruitment Information Package
About Special Olympics Saskatchewan:
Special Olympics is dedicated to enriching the lives of individuals with intellectual disabilities through sport. Special Olympics is more than an event - we deliver world-class sport programs to people with intellectual disabilities daily in communities across the province. Special Olympics programs cater to all ages and a wide range of abilities. Our programs help instill confidence, self-esteem and other life skills in our athletes, contribute to healthier athletes with life-long physical fitness and strengthen communities.
To Apply:
Nominees may submit their resume to joinourboard@specialolympics.sk.ca by July 27th, 2023.
If you have any questions about the nomination process, please do not hesitate to contact Special Olympics Saskatchewan CEO, Faye Matt at fmatt@specialolympics.sk.ca or 1-306-780-9277