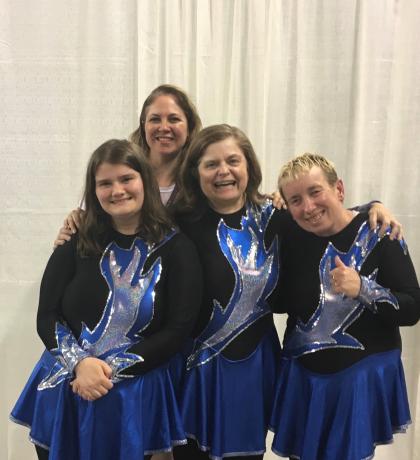 Before getting involved in Special Olympics rhythmic gymnastics, Jennifer Fyfe did not have any experience at all in the sport, let alone with coaching it. However, this did not stop her passion to empower athletes with intellectual disabilities. Fyfe is a ballroom dancer, and she says that there is some overlap of skills with rhythmic gymnastics.

Immediately becoming the Head Coach of the Special Olympics BC – Vancouver rhythmic gymnastics team was a big leap of faith for Fyfe, but she accepted this role with open arms. She says that it is the pure joy in the athletes that makes her coaching experience very rewarding and worthwhile.
When did you start with Special Olympics, and how did you get involved?
I started way back in 2015. I was working lots and doing my own stuff, but I just felt like I needed something more in my life, and I grew up with somebody with an intellectual disability. So when I saw Special Olympics, I thought, "oh, that would probably be a good fit!"

What do you love about coaching?
The number one thing is the joy that it brings to the athletes. When you are at an event – especially a rhythmic gymnastics event – the joy that radiates from them is something that you will never experience anywhere else. You can't really get that in many other places where everyone is happy.

There's also such a feeling of community. You see these athletes from different Locals that are all supporting each other and cheering each other on… they genuinely care if they want each other to do well.

You also have a ton of fun. It is so much fun and the amount of laughter is infectious. One night, I was standing with an athlete waiting for his cab to pick him up, and he started telling me jokes. And we just laughed for 15 minutes!

What have you learned from coaching SOBC athletes?
I've learned a lot of patience. It does take a lot of patience when you're coaching somebody with an intellectual disability because you have to find unique ways to coach each person because you want it to be attainable.

I've also learned a lot about gratitude, just how some of these athletes have such huge obstacles in their lives. A lot of them have a physical disability, and not all of them have had it easy trying to make their way in the world. But they show up and they put so much effort into everything they do. It's really quite inspiring and it makes me very grateful for everything that I have.
What has been your most favorite or memorable experience at SOBC?
At the Special Olympics Canada Games back in 2018, we were the very last medal ceremony to happen. This one athlete from Kelowna performed wonderfully, but she didn't think she had done well. She got a first-place medal! And when she came off that stage, she just ran up to me. The excitement in her was just overflowing, I have never seen someone radiate confidence so much.

Then there's moments that always happen, such as moments where the athletes show kindness to other athletes. If someone is upset, an athlete will come up and try to comfort them. This sense of community is one of my favorite parts of Special Olympics; it's the support that these athletes give each other.

Why should other people get involved with SOBC?
There are so many reasons. You can break it down to the sheer fun of it. If you just want to go and have a good time, you can show up and encourage the athletes and get wrapped up in the fun.

Then there's also that sense of community. You're a part of something where you get to see people grow, learn, and achieve their goals. It's quite fulfilling to be able to watch that.

I have athletes that I only see once a year at competitions. They'll see me at a competition, and they'll come running up to me and say, "Coach Jen, it's so nice to see you and I miss you!" And you get this feeling of, "I have somehow done something to make them feel good."
Fyfe will be the head coach of rhythmic gymnastics at the 2023 Special Olympics World Summer Games in Berlin, happening June 17 to 25! She will be joining 21 other incredible athletes, coaches, and mission staff from B.C. on the Special Olympics Team Canada 2023 Training Squad!
Read her #SOTeamCanada2023 profile
MEET THE SO TEAM CANADA 2023 TRAINING SQUAD MEMBERS FROM B.C.
SPECIAL OLYMPICS WORLD SUMMER GAMES