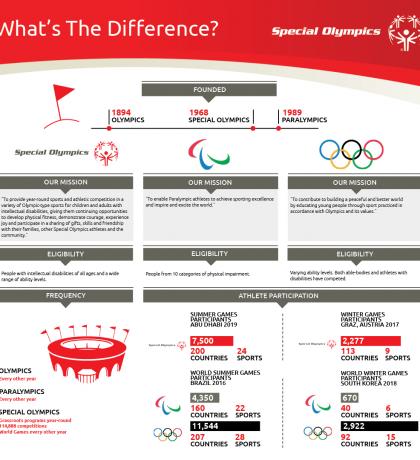 Special Olympics, Paralympics, and Olympics are separate organizations with similar goals. Learn more about our organizations in this post written by our friends at Brandcamp Digital!
One of the most common questions we get at Special Olympics BC is what is the difference between the Olympics, the Paralympics, and Special Olympics?
While these entities create important sporting opportunities, there are clear differences in the criteria, philosophy, and frequency of our organizations.
This post will explain how Special Olympics and the Paralympics and Olympics are different, and how we all matter. Interested in getting involved with Special Olympics BC? Check out our community programs all across the province. 
What is the Difference Between the Paralympics, Special Olympics, and Olympics?
Special Olympics is for athletes who have intellectual disabilities. Our athletes come from a wide range of ability levels, but in order to participate they must have an intellectual disability. Special Olympics athletes may also have a physical disability. 
The Paralympics focus on six main disability categories which include: "amputee, cerebral palsy, intellectual disability, visually impaired, spinal injuries and Les Autres (French for "the others," a category that includes conditions that do not fall into the categories mentioned before)." 
The Olympics involve able-bodied athletes and focus on elite performance. While some Paralympic athletes have participated in Olympic Games, no disabled athlete has ever won a medal at both the Olympic and Paralympic Games.
Another important difference between Special Olympics and the Paralympics is the timing and consistency of major Games. 
Special Olympics programs and grassroots competitions happen year-round in 200 countries and jurisdictions around the world. Special Olympics also has a four-year Games cycle in both summer and winter sports, with local, regional, and national qualifying competitions building up to Special Olympics World Games. 
Please click here to read about where we currently are in the Special Olympics Games cycle. 
The Olympics and Paralympics focus on offering their major Games. Olympic and Paralympic Games happen every other year on a staggered winter and summer schedule.
Who Gets to Compete?
Athletes who compete in the Olympics and Paralympics are elite athletes who have to meet certain strict criteria for standards of performance. Physical and technical assessments are conducted as well as observation in and out of competitions. 
In Special Olympics, all registered athletes can participate in grassroots competitions. And in B.C., all registered Special Olympics athletes over the age of 12 can compete to try to advance through the Games cycle. Athletes of all ages and levels of athletic experience and capacity can compete. Special Olympics uses divisioning to structure competitions so that athletes compete with other athletes of similar ability in equitable divisions.  
Why is Special Olympics Separate from the Olympics and Paralympics?
Special Olympics is solely for athletes with intellectual disabilities. The Paralympics focus more on physical disabilities. The Olympics and Paralympics are about elite competition and specialization, and the athletes compete in Olympic and Paralympic Games only once every four years in their sport.
In contrast, Special Olympics provides sporting opportunities throughout the year and across the world. And in Special Olympics competitions, it's a fundamental rule that athletes in competitions are matched up with others of the same competitive ability. 
How Does the Special Olympics Sporting Philosophy Differ from the Olympics and Paralympics?
Special Olympics believes that sport is for everyone, but sadly, people with intellectual disabilities are still too often left behind and isolated in traditional sport programs and in society at large. We aim to create empowering environment for our athletes with intellectual disabilities, where they can build their skills and confidence and show all that they can do.
In Special Olympics Games, athletes are placed in divisions where they will be able to compete against others of similar ability. We believe that excellence is a personal achievement and a reflection of reaching one's maximum potential. We believe that all people with intellectual disabilities can achieve this goal and should have access to these opportunities and experiences.
In the Olympics and Paralympics, athletes are required to meet certain sport standards and criteria in order to participate in the Games. These standards are usually sport-specific and are determined by the IOC and IPC Sports organizations.
The Olympics and Paralympics are about elite performance, whereas Special Olympics competition is for all athletes to have the opportunity to challenge themselves to achieve their personal best. 
How Often are Games Held?
The Olympics and Paralympics host Games every other year on a staggered winter and summer schedule. This means that athletes will only compete every four years when their seasonal sporting event is held.
Special Olympics programs host over 114,000 competitions a year, including the World Games every other year. We have grassroots programs and competitions in 200 countries and jurisdictions, with more than 5.7 million athletes worldwide supported by 1.2 million volunteers.
Conclusion
While both Special Olympics and Paralympics offer sporting opportunities to people with disabilities, each organization has its own unique focus.
Special Olympics uses sport to empower athletes with intellectual disabilities to achieve personal excellence. The Paralympics highlight elite athletic performances.
While the Paralympics operate within the timelines of the Olympic Games, Special Olympics is a year-round global entity that hosts programs and events on an ongoing basis.
Looking to make a difference through the power and joy of sport? Donate today to help Special Olympics BC athletes access empowering sport opportunities. We also invite you to connect with your local community program and get involved where you can!
This article was written by Brandcamp Digital's Hannah Macready. The graphic was created by Rachel Stefan. Brandcamp Digital is a full-service digital agency that prioritizes results. They are a collective of creative marketers who bring diverse perspectives to every project. They pride themselves on their passion to make a difference in the communities around them, which is why for every 40 hours they work, they do 4 hours of impact work, including significant support for Special Olympics BC. Check them out!