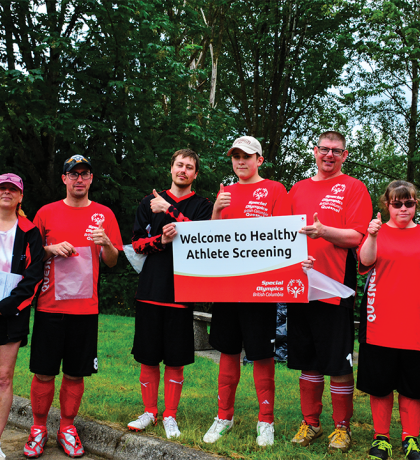 Battling the health crisis faced by individuals with intellectual disabilities, who are still far too often forgotten and left behind by the health system, Special Olympics BC runs year-round health initiatives to help improve health and access to care.
In 2022, we continued our efforts to create #InclusiveHealth throughout B.C., thanks to the dedication of athletes, volunteers, and supporters around the province! 
Here in B.C., Special Olympics BC's health work is made possible by the ongoing support of our provincial partners and fundraising events, including the leading role of the Government of British Columbia, Government of Canada, and Methanex. Our barrier-breaking initiatives were also supported by the Special Olympics International 2022 Health Impact Grant, with the help of the Golisano Foundation.
These are the four pillars of the global Special Olympics Health program:
Play to Prevent | Ongoing Prevention and Fitness: Health promotion, physical activity and fitness, child development, social-emotional health, nutrition, and prevention across a lifespan approach, from Young Athletes to older adult athletes. 
Assess to Address | Early Detection and Care Coordination: Health screenings and coordinated follow-up care for Special Olympics athletes.
Train to Treat | Training the Health Workforce to Treat and Serve People with ID: Curricula and training to equip the healthcare workforce to better serve, and be more inclusive of, people with ID.
Rise Up to Reform | Inclusive Health Advocacy for Improved Health Outcomes: Innovative, targeted policy change at the local, national, regional, and global levels to elevate the voices and health needs of people with ID.
In 2022, Special Olympics BC athletes, volunteers, and partners achieved advances in all of these pillars in order to change the game for the health of people with intellectual disabilities. 
In 2022, SOBC delivered these health programs and opportunities:
Dedicated SOBC – Kamloops athlete and Health Messenger Shinji Matthews says about Club Fit, "I like the different exercises every week – they keep me stretching and strong. It will keep me healthy for Provincial Games in February." 
Huge thanks to all of SOBC's provincial partners who help make our vital ongoing health work possible. Sincere thanks also to all the volunteers and athletes throughout the province who achieved important progress this year! 
Let's all keep up the important work together to ensure people with intellectual disabilities have the same opportunity to be healthy as everyone else. Everyone can help build #InclusiveHealth!
Participate and volunteer with Club Fit 
Get involved with Healthy Athletes 
Learn and advocate with Health Messengers