Retired B.C. sports reporter Bernie Pascall has an impressive collection of career highlights.
He's covered six Olympic Games – including the 1980 Winter Olympics medal-round hockey game, also known as "Miracle on Ice," when the U.S. defeat Russia in Lake Placid. He covered the first-ever Canada Cup (now the World Cup of Hockey) in 1976, where he witnessed an impressive winning goal by Darryl Sittler. He also covered the first-ever Special Olympics Games on Chicago's Soldier Field in 1968.
"Attending those Games in 1968 would be right up there," Pascall, now 77, said from his home on Vancouver Island. "It was definitely a career highlight."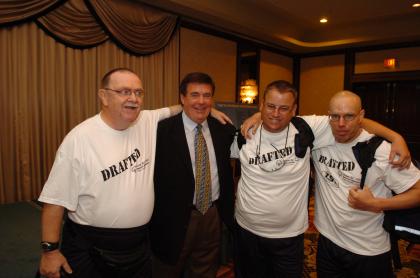 Pascall has remained involved since that first introduction to Special Olympics 50 years ago: he continued reporting on the games throughout his career, served on a Special Olympics communication committee and MCed various events.
"Normally as a reporter you go do the story … and you don't really get involved with what's happening," he said. "But this had very special meaning – we were (on Soldier Field) the whole day, seeing it all firsthand and being a part of it. It's just something that stayed with me."
"(The athletes) were really passionate … and I think that rubbed off."
In 1968, Pascall was a sports reporter at CFTO in Toronto. Harry "Red" Foster – a well-respected broadcaster and advertising executive who would later incorporate Special Olympics in Canada – invited the CFTO team to Chicago to cover the first Special Olympics Games.
Pascall and some colleagues flew on a small jet to Chicago with Foster, Harold Ballard, owner of the Toronto Maple Leafs and George Armstrong, the NHL team's captain at the time.
Pascall can still vividly recall Canada's floor hockey team marching onto the field.
"When you look back on Soldier Field – the great history of that stadium – and to see the young floor hockey players, about a dozen of them from Toronto, marching in – it was eye-popping to see," he said. "It meant a lot to them and I think that just carried over to everyone else there. You got caught up in the emotion and the excitement."
Pascall developed an "insatiable passion" for Special Olympics, which is why he stayed involved when he moved to Vancouver 10 years later.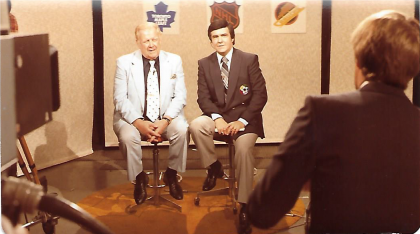 According to Special Olympics B.C. President and CEO, Dan Howe, Pascall's booming radio voice helped the movement flourish on the west coast.
"For somebody in sports like Bernie, who covered some of the biggest events in the world, to lend his voice and say we should be supportive of Special Olympics – that's great credibility for us," he said. "When you get those people who will stand up and lead the way, it certainly makes it easier."
"That's one of the great things that Bernie did."
And today, "where ever we ask him to help, he will," added Howe.
As Pascall proudly reflects on the movement's 50-year growth – now supported by major sponsors and athletes – he encourages reporters and media outlets to provide more coverage on the organization and its events.
"If you attend just one Special Olympics event, you'll be back for more," said Pascall.  "Once you see the dedication and hard work of these Special Olympics athletes – it's just inspiring and you'd want to get out there and cover it more often." 
"I'm glad we did it in 1968."
Help Special Olympics Canada continue its legacy by making a donation today.