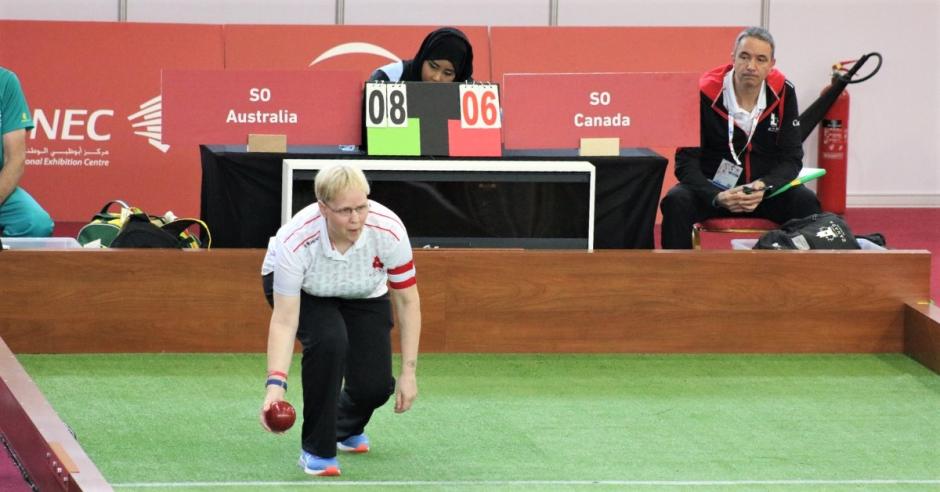 SO Team Canada bocce player Kerry Lane has returned from her first World Games competition with a silver and bronze medal in tow.
While the 55-year-old Brantford resident has been a Special Olympics athlete for 36 years, she hasn't always played bocce.
She started out as a swimmer, but was forced to leave the sport behind when doctors discovered a subdural hematoma in her brain. The physical activity caused too much pain.
She feared her involvement with sport was over – until she discovered bocce.
"There's no running or anything, I can concentrate and think about what type of shots I can do," she said. "I joined it and I kept it up … and look where it took me."
While proud of her performance at the Special Olympics World Games Abu Dhabi 2019, adjusting to the international competition was a challenge.
"It was much harder than National Games," she said, adding that matches were shortened to 30 minutes (as opposed to one hour) and only went up to a maximum of 12 points. "By the second day, I thought, 'Kerry don't worry about the time' and I won 12-0 with eight minutes left on the clock."
"I was winning and doing well after that, so I didn't let the time bother me – I didn't even look at the clock."
That mindset lead to her silver medal in the doubles event and bronze in singles.
"It was great to get on the podium," she said. "And I'm not just proud of myself, I'm proud of my team. Out of four athletes for Canada, we brought back eight medals between us all, so we did really well."