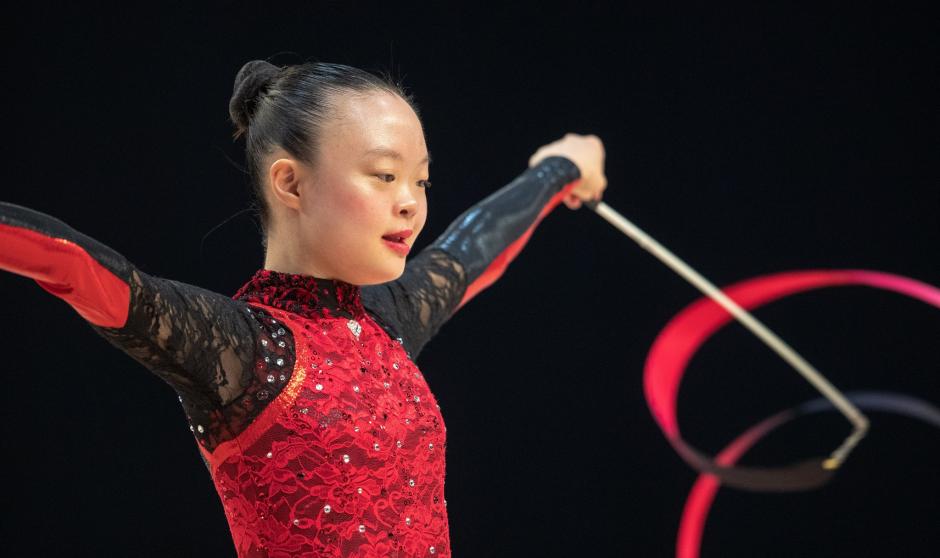 Special Olympics Team Canada rhythmic gymnast Kimana Mar has shown her gold medals to everyone she knows in Ottawa. 
"I pretty much travelled with them all week when I came back from the Games," the 19-year-old said. "It felt really good to share them with everyone."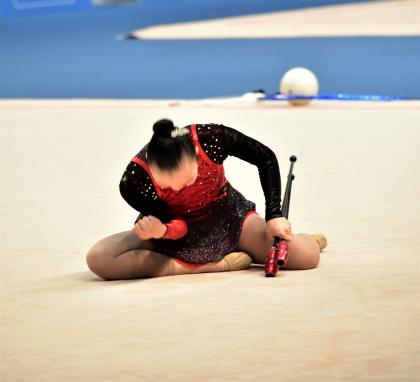 The Special Olympics World Games Abu Dhabi 2019 were Kimana's second time competing on the world stage. In 2015, she competed as a Level 1 rhythmic gymnast at the World Games in Los Angeles. By the 2019 Games, she moved up to the Level 3 competition.
"It's a very tough category," her mother Sandra Wong said. "The Level 3s were really strong technically."
Sandra, along with Kimana's father, sister and family friends travelled to the UAE to cheer her on from the stands.
"I was blown away," Sandra said about her daughter's performance, which earned seven gold medals – five for her individual performances and two for group routines. "I just feel so happy for her, so proud for her." 
While competing, Kimana was confident in her performance – evident by a celebratory fist pump as she left the stage.
"It was a kind of 'yes moment,'" Kimana said. "I caught all my tosses and was feeling proud that my apparatus didn't fly off the carpet. When I nailed these elements I knew that I did very well – but I had no clue what the score was, no clue if I even placed."
Standing on the podium to receive all seven gold medals was another fist pump worthy moment.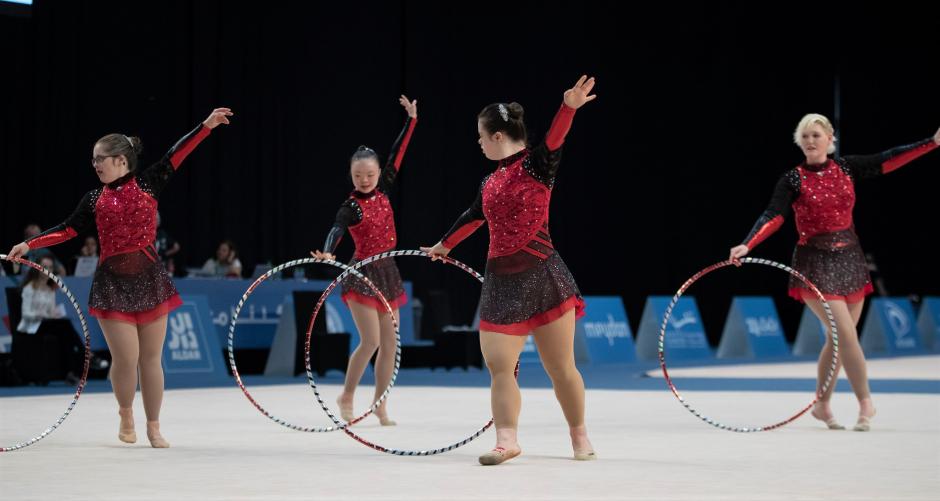 The rest of SO Team Canada's rhythmic gymnasts also saw great success at the Games. The team of six brought home a combined 29 gold and three silver medals.
Donna Edwards, the team's head coach, is still "in awe of their performance."
"They did extremely well," she said. "Even though the athletes had little time to practice together in person, as we have athletes on the team from across Canada, they pulled together at competition time. They were amazing."
Edwards credits their success to Special Olympics Canada's National Team Program.
From the first training camp in October 2018, Edwards was able to meet each athlete's coach, identify their strengths, areas of need and create focused training plans.
"The home training coaches and SO Team Canada coaches worked well together to prepare our athletes for the Games," said Edwards. "I am so grateful for the opportunity to have been part of the team that helped the athletes achieve their dreams."