The road to World Games has always been an exceptional feat, but never before has it been as great a challenge as it has for Special Olympics Team Canada 2022. 
Originally named to Special Olympics Team Canada 2022 (SOTC 2022) Training Squad in December of 2020, Special Olympics communities across Canada celebrated the 156 athletes, coaches and mission staff who were selected to represent their country. 
Despite the obstacles imposed by the pandemic, Chef de Mission Charity Sheehan described the naming of the Team as, "a beam of positivity and hope in a very uncertain and challenging time."
Since then, Training Squad members have been hard at work. 
With in-person training on hold, Special Olympics Canada united the Team on Training Central, a comprehensive virtual resource library and web-reporting tool created for athletes and coaches to connect, access workouts and track progress.
Special Olympics athletes from across the country are encouraged to access Training Central to 'Join The Journey' and train alongside SO Team Canada.
While virtual training may seem less physically demanding than the conventional preparation for World Games, members of SOTC 2022 have shattered that misconception. Since March, athletes have been required to complete daily reports on Training Central on everything from how they are feeling and what they are eating, to exercises completed and daily step counts.
Team members were quick to adapt to the rigorous reporting schedule, inspiring their coaches with their determination despite the unique training conditions. 
Special Olympics Alberta's Jenny Murray is one of the team's many celebrated Athletes of the Month, a reward for her enthusiasm and commitment, whether it be virtual or in-person. 
"As she prepares to compete in the 400m, 800m and 4 X 100 relay events in showshoeing at World Games, Jenny has been completing her daily reports and exercises 5 days a week. She has come up with weekly goals, submits personal accomplishments on Training Central and works hard to achieve them. She has participated in all of the Team Challenges with enthusiasm and determination to make the leaderboard, including contributing to push-ups - 41 in a day! She recently achieved a new personal best of 28:28:00 mins for her 5K – way to go, Jenny!" shared Mission Staff, Craig Watson.
In addition to their continuous work on Training Central, SOTC 2022 members gathered for the first-ever Virtual Training Camp in May of 2021. 
The Training Camp included 12 hours of training over a 4-day period. Sessions included Strength and Conditioning, Nutrition, Medical, Communication and Mental Performance training as well as team bonding and athlete social activities – a virtual dance party in true Special Olympics spirit, of course!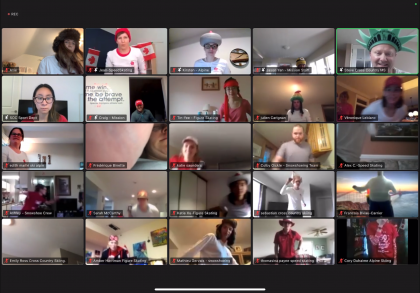 New to this year's National Team Program is the element of Mental Performance. The support team includes a Mental Performance Lead: professional member of the Canadian Sport Psychology Association, the Association for Applied Sport Psychology and Canadian Certified Counsellor (CCC), Natascha Wesch, as well as four Mental Performance Coaches.
Natascha has been involved in various aspects of elite competitive sport for over 35 years as both an athlete and coach at the international level.
As she has educated the team, mental performance is as critical an element to competition as the physical aspect. Not only has she shared strategies to prepare for game-day mental performance, she has taught team members that focusing on mental performance during training and the lead up to competition can be just as impactful to results. Never before has this been more true than for SOTC 2022 members, who have faced a new set of mental obstacles imposed by the pandemic, such as isolation and anxiety. 
Over the past 6 months of training and support, Natascha could not be more proud of the resiliency demonstrated by the athletes and coaches alike.
"Having a group of mental performance consultants and coaches working directly with the teams has allowed us to support everyone in terms of training preparation and performance in addition to managing the ups and downs and constant changes happening due to the pandemic. How individuals respond to challenging times says a lot about their mental fitness and overall mindset; it's been fantastic to see the response and positive mindset from the SOTC 2022 athletes," she shares.
Last month, Special Olympics International announced that the Special Olympics World Winter Games Kazan, originally scheduled for January 2022, had been postponed to January 2023. The decision was made due to current conditions regarding the COVID-19 pandemic and to protect the health and safety of athletes, volunteers, staff and fans.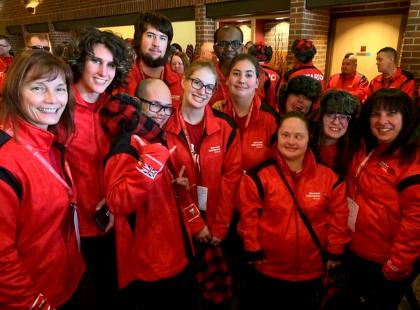 What could have been disappointing news was met with overwhelming positivity and understanding from the athletes, coaches and family members of the team. Some team members, such as snowshoer Tony Wilkinson from Special Olympics British Columbia, were even excited by the change of date.
"I'm so happy, this means we get to be on Special Olympics Team Canada for another whole year!" 
Chef de Mission Charity Sheehan could not be more proud of the team, how far they have come and their steadfast dedication to the path forward.
"The journey this far has been outstanding!  No matter what curveball has been thrown at our Team, they have hit it out of the park.  From their positive outlook to their incredible work ethic, SOTC 2022 is living proof that when the right individuals have the right support, magic happens," she shares.
This team has proven its resiliency time and time again and we know this bump in the road is just one more hurdle they will overcome together. As our athletes always answer when an obstacle presents itself, "Challenge Accepted."
Please join us in celebrating Special Olympics Team Canada 2022 as the longest serving SO Team Canada in Special Olympics history – and wish them success in their continued preparation for competition at the world stage in 2023.
GO CANADA GO!  Allez Canada Allez!