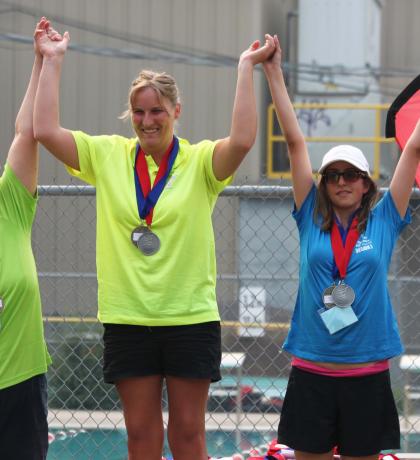 For Kendall Salanski, Special Olympics has given her confidence and the courage to step out of her comfort zone. The SOBC – Kimberley/Cranbrook athlete has been active for over 10 years, and is currently helping lead the movement in our province as a member of the Athlete Input Council representing Region 1 (the Kootenays).
Salanski has made lasting friendships and countless memories through the inclusive and empowering support from the Special Olympics community.
"I got out of my shell when I hit Special Olympics. It made me feel more included, and it made me feel happy that I found great bunch of friends. Being included and just having a bunch of great athletes and coaches around Cranbrook – it's been awesome support," Salanski says.
Salanski is a busy multi-sport athlete who participates in alpine skiing, basketball, cross country skiing, Club Fit, golf, and swimming. Her long list of accomplishments includes qualifying to compete in swimming at the 2018 Special Olympics Canada Summer Games. On the national stage, she raced her way to a silver medal, two bronze, and three sixth-place results.
Today Salanski is also a proud Safeway employee. She has been working at Safeway in Cranbrook for over a year, helping with grocery duties and providing support for customers. She says she is very thankful to be working with such wonderful colleagues at Safeway as they have been encouraging, inclusive, and uplifting.
"Everyone at Safeway is so nice. They have been good to me and been very supportive," Salanski says. "I am really enjoying my job at Safeway a lot. I would like to thank Safeway for giving me this opportunity."
Safeway is a valued provincial Special Olympics BC sponsor. They generously support athletes and programs throughout the province with their significant donations, impactful annual fundraising campaign, and ongoing support of health and wellness opportunities.
Thank you Safeway for making a difference for athletes with intellectual disabilities and creating communities of inclusion!
Learn more about Empire Company Limited's annual fundraising campaign